Reading Time:
8
minutes
These are our current picks for some of the best fishing destinations in Canada.
Year after year, Canada remains one of the best places to fish in the world. Local anglers and visitors can enjoy a whole menu of desirable fish species, from various types of Trout and Salmon to majestic Halibut and tasty Panfish. The only challenge here is to pick the best place to start your fishing adventure. To help you out, we've assembled a list of locations that nobody should miss. These are the best fishing destinations in Canada for 2022. 
To make the list even more interesting, we included some lesser-known fisheries. These will help you get to know the Great White North from a different angle. If you're curious to learn more about what we picked for the 2022 winter season, here's that list.
Eagle Lake, Ontario
Known for: Musky
When to visit: May to November
Click here to see regulations and licensing information.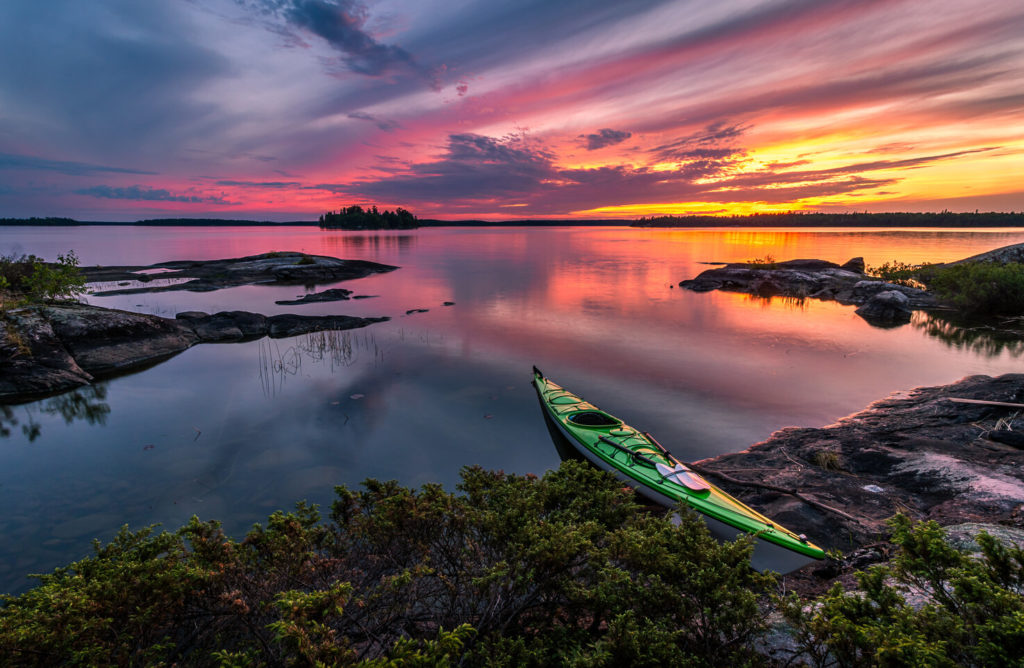 Eagle Lake is based in Cottage Country in northern Ontario, just a hundred miles north of International Falls. It's located close to the cities of Dryden and Kenora, with a variety of campsites available for families and solo anglers. The lake is a perfect getaway for anyone who's looking to enjoy true Canadian wilderness and everything it has to offer.
Eagle Lake's fishing season usually begins in May and lasts until November. If you're lucky, you can expect to find some pretty interesting fish species at the end of your fishing line. Home to Walleye, Northern Pike, Perch, Trout, and Smallmouth Bass, the lake can satisfy many freshwater enthusiasts. And, of course, it's widely known for its Musky fishing.
The fishing doesn't need to stop when the weather gets cold, either. During the snowy season, anglers can enjoy a real winter adventure by going ice fishing. Local guides operate various lodges and winterized cabins that are suitable for winter fishing, too.
Fraser River, British Columbia
Known for: Salmon
When to visit: Year-round
Click here to see regulations and licensing information.
The mighty Fraser River, the longest river in British Columbia and the fifth largest in Canada, flows for over 1,375 kilometers (850 miles). It rises near the border with Alberta on the western shores of the Canadian Rocky Mountains and flows into the Pacific Ocean near Vancouver. And it's safe to say that the scenery there is breathtaking.
The Fraser is the place to be for any Salmon angler. The world's largest Salmon runs happen right in this river! As one of the best Salmon fisheries, Fraser River's main stem and tributaries are home to all five species of Salmon – Chinook, Coho, Chum, Pink, and Sockeye. Around a whopping 800 million young fish migrate along the river every year.
Of course, fishing the Fraser River wouldn't be complete without Sturgeon fishing. Anglers from all over the world come here to try their luck at fishing for these giants, which is a unique experience. Tangling with these monsters is a real challenge for fishermen of all ages and levels of expertise. Just note that these notorious fish are highly protected.
Vancouver Island, British Columbia
Known for: Halibut, Salmon
When to visit: All year
Click here to see regulations and licensing information.
Fishing in Vancouver Island hardly needs any introduction. It's widely considered to be one of the best destinations in the country, and for good reason. First of all, you can enjoy a multitude of both freshwater and saltwater species. There are hundreds of lakes and streams that are a fly fisherman's dream. Then, the Island offers incredible ocean fishing opportunities with a lot of local captains who can show you the best spots to catch trophies.
Vancouver Island stretches 456 kilometers (283 miles). It's located in the northeastern Pacific Ocean and is part of the province of British Columbia. Campbell River is among the top freshwater fishing spots on the Island, along with Nootka Sound, Ucluelet, Tofino, and Sooke to name a few.
With such a generous variety of fishing grounds to explore, there's also an impressive list of potential catches. In lakes, rivers, and streams you can get your hands on Pacific Salmon and Steelhead. And in the ocean, there are massive Halibut and Albacore Tuna. Of course, these are just a few of the "superstar" catches available on the island, among plenty more.
Cranberry Lakes, Manitoba
Known for: Northern Pike
When to visit: May to October
Click here to see regulations and licensing information.
The beautiful Cranberry Lake system is located in northern Manitoba. It consists of three lakes, each feeding into the other. First Cranberry Lake is around 7,2 kilometers (4.5 miles) long and 9 meters (30 feet) deep and is home to Walleye, Northern Pike, and Lake Trout that hide in the bays and weed beds. Locals say that you shouldn't come here to fill your bucket – instead, it's a great place to practice your angling skills and enjoy some quality fishing.
Second Cranberry Lake is deeper than the other two, reaching up to 45 meters (150 feet). It's approximately 11 kilometers (7 miles) long, with gorgeous scenery and nice sandy beaches. Here, you can get your hands on Lake Trout, Burbot, Walleye, Northern Pike, Perch, and Whitefish. Finally, the waters of Third Cranberry Lake are up to 12 meters (40 feet) deep, while the lake is 8 kilometers (5 miles) long. It's home to the same fish species that all three lakes share.
The lakes are known for their trophy catches, but not the numbers. You'll need the patience here, but the reward is definitely worth it. Plus, you'll get to explore many beautiful islands and maybe even rent a kayak or a canoe for your fishing adventure.
North Saskatchewan River, Alberta
Known for: Sturgeon
When to visit: May to September
Click here to see regulations and licensing information.
The North Saskatchewan River flows around 1,290 kilometers (800 miles) all the way from the Rocky Mountains. This glacier-fed river with a long history is part of the Saskatchewan River system. You can fish the River from two provinces – Alberta or Saskatchewan.
A lot of anglers who've had the opportunity to explore the North Saskatchewan have stayed devoted to the river for years. The fishing opportunities here are endless! You can fish for Sturgeon in the heart of the Saskatchewan prairies or pick a spot to land Walleye and Northern Pike.
Interestingly, the North Saskatchewan River is not too well-known among anglers. If you're willing to explore its waters, you can count on a lack of crowds. This is one of the best places for solo fishing, where you'll be able to relax and spend a few hours with your thoughts, the river, and everything these beautiful waters have to offer. Don't forget to take a few pictures, though!
Thousand Islands, Ontario
Known for: Salmon, Bass
When to visit: May to October
Click here to see regulations and licensing information.
The Thousand Islands sit on the US border in the St. Lawrence River in Ontario. Here, you can fish the beautiful river that starts at the northeastern end of Lake Ontario and flows to the Atlantic Ocean. Not only that, but the Thousand Islands area touches Lake Ontario, so you can enjoy some Great Lakes fishing, too!
There are rocky outcrops, bridges, and miles of waters that you can explore in the region. In the Thousand Islands area, you can get your hands on the best fish species that the St. Lawrence River has to offer, from trophy Salmon and Trout to Smallmouth and Largemouth Bass, Musky, Bluegill, Perch, Catfish, Northern Pike, and Walleye.
Fishing in Lake Ontario here is an excellent way to enjoy the Great Lake without having to go too far out. The northeast part of the lake is at your disposal, with bays, currents, islands, and offshore structures. If you put in the time, you'll have all the chances to find some incredible catches at the end of your line.
Great Bear Lake, Northwest Territories
Known for: Lake Trout
When to visit: Year-round
Click here to see regulations and licensing information.
Great Bear Lake is what they call a true beauty of the north. This is another place you can go to enjoy solitude, since it lies pretty far from civilization, on the edge of the tree line. The Great Bear is home to unique wildlife, incredible sunsets, and even the Northern Lights. In order to understand all that beauty, you have to see it at least once.
Great Bear Lake is fished by only 300 lucky anglers every year, and the majority of them can definitely say that there's no better fishing in the country. In fact, the lake boasts the all-tackle records for Arctic Grayling and Lake Trout, along with several line-class record catches. Needless to say, the fish here tend to be pretty big!
You can hunt for big Trout during the summer months and all the way through early fall. Even though you can enjoy fishing in Great Bear Lake all year round, the waters here can be frozen for up to 9 months. Which ice fisherman would say no to a spring trip to a frozen lake?
Aikens Lake, Manitoba
Known for: Walleye, Northern Pike
When to visit: Late May to mid-September
Click here to see regulations and licensing information.
Aikens Lake is almost 91 meters (300 feet) deep, the second deepest lake in Manitoba with a lot of fishing opportunities and a breathtaking wilderness. The lake is located at the south end of Manitoba's Atikaki Provincial Wilderness Park, a UNESCO World Heritage Site. What else makes it special?
First of all, Aikens Lake is known as one of the best Walleye fisheries in Canada, and locals like to call it a "Walleye Factory." And once you're done with Walleye, you can get your hands on Lake Trout, Northern Pike, or who knows what else.
The Aikens is home to various lodges that offer fly-in fishing experiences for families and groups of anglers. If you're looking to have a fishing adventure where you can get your hands on some of Canada's finest trophy fish, consider paying Aikens Lake a visit.
Canada: Infinite Shores Bring Infinite Opportunities
From coast to coast and province to province, fishing in Canada is absolutely unparalleled. It's a massive nursery of freshwater and marine life, with a myriad of fly fishing streams, remote lakes, and beautiful coastlines. It's hard to name all the natural wonders Canada has to offer, and we wouldn't even try. You'll have to see it all by yourself and pick the best spot for you. 2022 is a good year to start!
Those are our best fishing destinations in Canada for 2022. Are there any fishing spots you think we missed? Which is your favourite place to catch fish in Canada? Let us know in the comments below!
If you want some more inspiration, read about our picks for the best Canada fishing destinations for 2020.