Reading Time:
8
minutes
When you think about "the Shining City by the Sea," your hand might immediately reach out to grab a fishing rod. This is perfectly understandable: consider the barrier islands and the mighty Gulf of Mexico with its reefs and blue waters. When you next feel adventurous, try deep sea fishing in Corpus Christi. Just think of all the ocean predators waiting to be tamed!
In this article, we cover all you need to know about deep sea fishing in this beautiful Texan city. You'll learn about the most interesting species, how, when, and where to catch them. We'll also mention fishing rules and regulations. So, without further ado…
What fish can you catch deep sea fishing in Corpus Christi?
In Corpus Christi, you can book anything from a 6-8-hour trip all the way to a full multi day extravaganza and still have a lot of fun. There are wrecks and reefs just past the state waters if you want to keep it somewhat local, along with large offshore playgrounds past the 40 mile mark.
So, what are the top species waiting for you in the bluewater? Let's start with Billfish.
Billfish
While the summer months are all about beaches and parties for some people, local anglers switch their focus on the majestic trio of Sailfish, White Marlin, and Blue Marlin. These predators occupy the minds of offshore enthusiasts from July to September.
Unlike Marlin, Sailfish can be caught in both deep blue and relatively shallow waters. When you work the grounds closer to shore, check the weedlines – it's where Sails often hang out in search of food. Although Sailfish often travel in schools, don't expect them in big numbers. The most productive technique to hook Sailfish is trolling or drift fishing.
White Marlin are much smaller than their Blue brothers, although they are still great fighters. Hunting for Marlin is more productive when you pass the 100-fathom line. Get ready for some trolling action and the possibility of landing a real trophy.
Tuna
If you set aside at least 10 or 12 hours for your Corpus Christi deep sea fishing trip, you can head 30+ miles out to the rigs. There, you might be up for a fight with real bluewater monsters – Yellowfin Tuna. These aren't the fish you'll be catching schools of; finding a Yellowfin is as challenging as fighting it!
Another Tuna on the bluewater menu here is Blackfin Tuna. They're smaller than Yellowfin, but you might come across more than one of them, and much closer to shore. In fact, tackling Blackfin is something even beginner anglers can try. If you land one, rest assured you've grown as an angler.
Just like Marlin, Tuna fishing in Corpus Christi is best during the summer months.
Wahoo and King Mackerel
Tuna and Billfish aside, there are other big species available while deep sea fishing in Corpus Christi. King Mackerel and Wahoo are pretty fast creatures that inhabit both the bluewater and the fishing grounds closer to shore. The rule is, the further you go, the bigger the fish.
These world-class predators feed pretty close to the surface. Naturally, local captains pack their trolling equipment when they head out offshore. The most productive method to catch Wahoo and King Mackerel is trolling live bait.
When you're fishing for Tuna around offshore rigs, keep an eye out for a big Wahoo or Mackerel. When we say big, we mean it – these fish reach anywhere from 50–100 pounds!
Snapper & Grouper
Year after year, both local and visiting anglers head to the waters as soon as the Red Snapper season opens. Fishing for these beautiful fish is an absolute must whenever the season allows.
As it's Corpus Christi we're talking about, Red Snapper aren't the only kind of Snapper you can look for here. The mighty Gulf of Mexico is also home to Vermilion, Lane, and Mangrove Snapper. Big catches are normally found by bottom fishermen in deeper waters. Just like with Wahoo and King Mackerel, the further you go, the bigger the fish will be.
Of course, you can also target other bottom dwellers while deep sea fishing in Corpus Christi. Offshore waters 300+ feet deep are home to Scamp and Broomtail Grouper, although it takes a bit of luck to find these. Goliath, Black, and Gag Grouper are more common catches, especially around artificial reefs and rigs.
And More
It goes without saying that the Corpus Christi bluewater menu doesn't end here. Bull Mahi Mahi and Swordfish hang out around offshore structure, while huge Amberjack and Tilefish swim below. As long as you're fishing far enough offshore, you may even come across Sharks like Blacktip and Mako. Who knows what else you may find at the end of your fishing line?
Corpus Christi Deep Sea Fishing Techniques
Now that we've covered the what, it's time to mention the how. The most popular methods for deep sea fishing in Corpus Christi are trolling, deep sea fishing, and deep dropping. For those, we'd advise you to book a charter with a local captain. A professional crew knows all the best spots and the most productive techniques to help you spot and land a big fish.
Trolling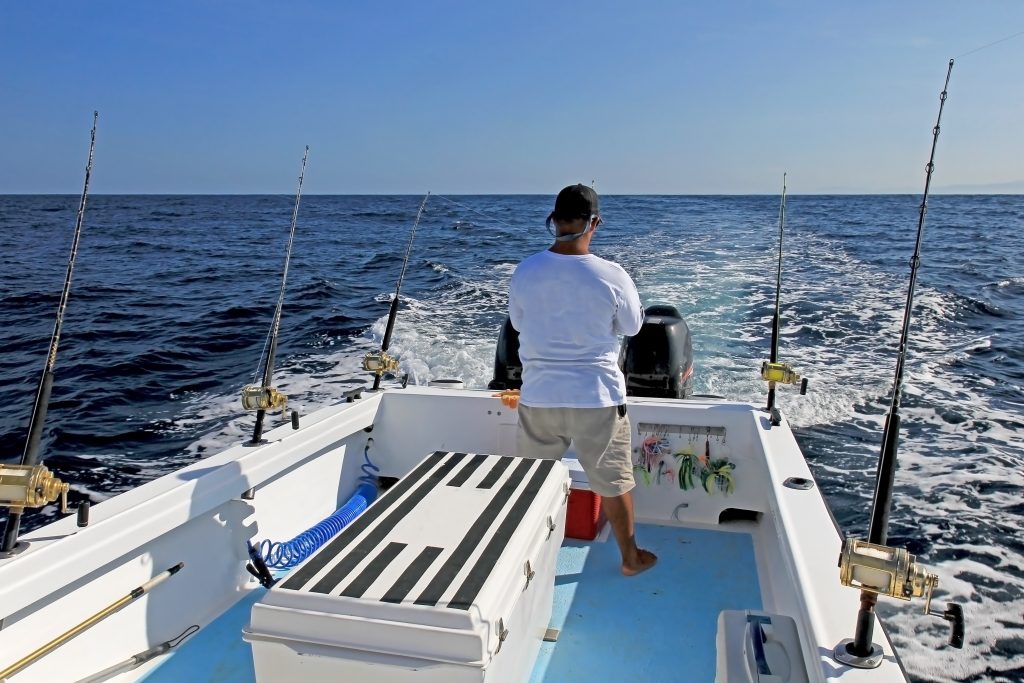 As we mentioned above, trolling is one of the most productive techniques to land Tuna, Mahi Mahi, Wahoo, Sailfish, and many other offshore species. It's important to pick the right bait, spot, and trolling speed, as well as prepare to land the fish yourself once it's hooked.
While trolling, a lot of local captains prefer to use outriggers – poles on the sides of the boat that allow you to put more lines in the water. When choosing bait, you can go for artificial lures or stick with live bait, depending on what species you're after. For example, Tuna react well to mullet and mackerel, while Billfish can be attracted to lures.
Bottom Fishing and Deep Dropping
Bottom fishing is your go-to technique for hunting Groupers and Snappers in Corpus Christi. However, getting your catch off the bottom isn't the easiest task, especially when you've hooked a big one. Get ready to do a lot of heavy lifting during the jigging action.
If you fish the waters that are up to 800 feet deep, you'll need to switch to deep dripping. It's a type of bottom fishing that's reserved for bigger fish and deeper waters. You can deep drop not only for Grouper and Snapper, but also for Tilefish and other bottom dwellers.
A recipe for good bottom fishing action is strong equipment, freshly cut bait, and electric reels. Some captains also use small strobe lights that they attach to their line to help the target notice you faster.
Where To Go Deep Sea Fishing in Corpus Christi
When planning your offshore fishing adventure in Corpus Christi, prepare to be on the water for the whole day. You'll need to head at least 30 miles offshore to reach the bluewater, and local captains prefer to go even further. The continental shelf lies 60 miles from the coast, where depths quickly reach 600+ feet, and the oil rigs also begin appearing some 30 miles from land.
Here are a few of the most interesting spots to consider for your Corpus Christi deep sea fishing trip:
The Ant Hills Area oil rigs. These oil rigs are all about huge trophies if you manage to reel one in. Here, you can fish 200 feet of water and target Cubera Snapper, huge Cobia, and even bigger Amberjack to name a few.
The Boomvang. If you're up for a bit of traveling, consider paying this floater oil rig a visit. The Boomvang lies 125 miles offshore and is a perfect playground for Tuna enthusiasts. In fact, a lot of anglers hit the Boomvang on their overnight trips.
The Tequila Rig. This rig is closer to shore than the Boomvang, some 95 miles from land. If you're looking for a spot with stellar reputation for Tuna and Billfish, consider paying the Tequila Rig a visit.
Flower Gardens. Flower Gardens can be found just 100 miles from the coast. The trip is usually worth it, though, since it's here where you can find huge Wahoo, Yellowfin Tuna, Mahi Mahi, and other pelagics.
Ranzels Rock. These rock formations lie around 65 miles southeast of Corpus Christi. It's where you can find big Snapper, Grouper, and Amberjack, along with Billfish and Yellowfin Tuna for some trolling action.
29 Fathom & Stetson Banks. These are mid-shelf banks that you can check out any time of the year, especially during the summer months. Expect to battle pretty big fish!
When is the best time to go deep sea fishing in Corpus Christi?
The good news is that there's always something biting in Corpus Christi, although some months are slower than others. During the spring months, you can look for Red Snapper in state waters (up to 9 miles from land) in preparation for the summer season.
Deep sea fishing reaches its peak during the summer months. First of all, it's the start of Red Snapper season in federal waters, followed by perfect bottom fishing and deep dropping opportunities for various Snappers, Groupers, and even Tilefish. To top it off, the superstar catches available during the summer season are also Mahi Mahi, King Mackerel, Wahoo, Marlin, Sailfish, and Tuna.
Blackfin Tuna, King Mackerel, and Red Snapper, along with large Sharks are available during the fall months. Come winter, it becomes more challenging to reach the bluewater playgrounds due to the weather conditions.
Anything else I need to know?
All anglers aged 17 and older need to possess a valid Texas saltwater fishing license. You can get one either online or in tackle shops, Walmart, and TPWD offices. Make sure you have a license ready before you hit the water. When fishing with a charter, your captain will be able to keep you in the loop regarding the local rules and regulations. However, it's never a bad idea to check those in advance yourself. Feel free to visit the TPWD website here to learn more about fishing regulations.
Deep Sea Fishing in Corpus Christi – Big Fish, Big Catches
In order to fully understand the beauty of deep sea fishing in Corpus Christi you need to experience it yourself at least once. There are so many opportunities whenever you go, as long as you're ready for a lot of action. Corpus Christi allows you to experience the Gulf of Mexico in all its glory. All you have to do is pick a charter and hit the waters!
Have you ever been deep sea fishing in Corpus Christi? What's your favorite catch? Is there something we missed? Share your experiences and stories in the comments below.