Reading Time:
9
minutes
Costa Rica's popularity as a tourist destination is growing – and it's easy to see why. This tropical nation is almost all rainforest, nestled between the Pacific Ocean and Caribbean Sea. It offers plenty in the way of scenery and adventure, but the real jewel in the country's crown has to be deep sea fishing in Costa Rica.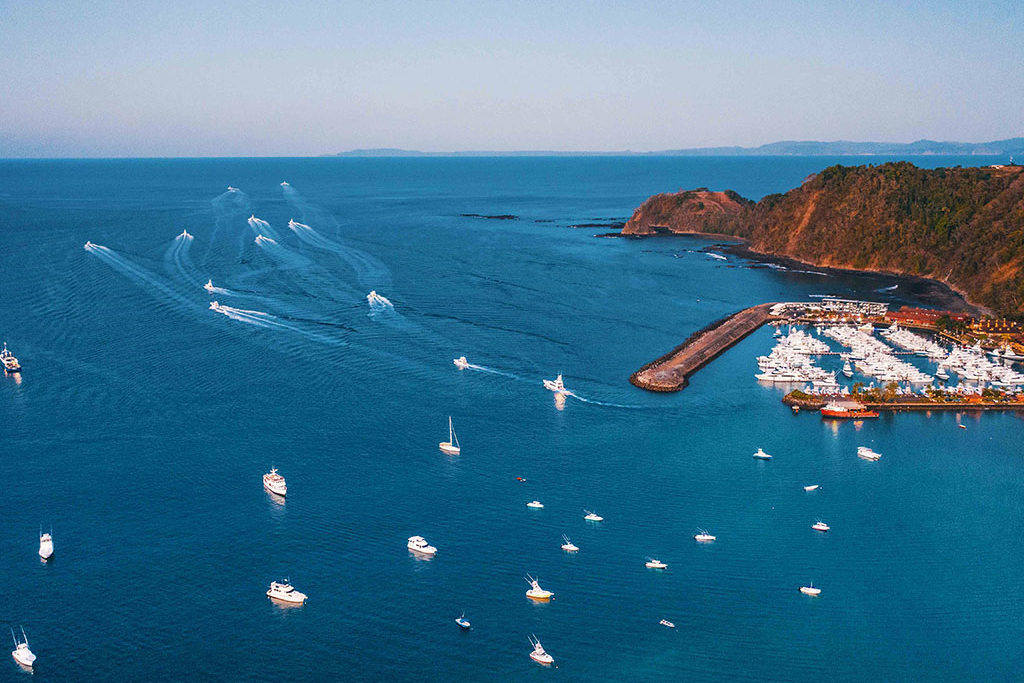 Literally translated as "Rich Coast," the name of the country actually undersells it! With two shorelines on offer, anglers can take advantage of a big game hunt on both sides of Costa Rica. Leave the golden beaches and green forests behind to head out to the deep blue sea, and you'll be in for an experience you'll never forget.
In this guide, we'll show you exactly why deep sea fishing in Costa Rica is a must when you visit. We'll take you through the top targets, most effective techniques, prime locations, and more. Once you're done reading, we're sure you'll be thinking about booking a trip to one of the two coasts.
Costa Rica Deep Sea Fishing Targets
Many globetrotting anglers will point to the rich inshore fishing Costa Rica has to offer, but that's no reason to overlook the deep sea action on offer! While Tarpon, Jack Crevalle, Roosterfish, and Snook are all great targets, the waters drop seriously deep just a few miles from shore. That brings some serious big game fish close by. Let's meet some of the leading lights.
Wahoo
Known as the world's favorite by-catch, Wahoo are undeservedly underappreciated in our book. These fast, shiny creatures offer plenty of fun for experienced anglers and newbies alike, and they also provide plenty of delicious meat. Why not target them in their own right!?
They promise to run away at speed with your line, making you work hard to reel 'em in. They grow to incredible sizes, meaning you'll need to work your muscles even more. And, in Costa Rica, there are thousands of them just waiting to bite. See for yourself why we think they're unfairly overlooked, and we're sure you won't be disappointed.
Mahi Mahi
While they may swim alongside Wahoo, Mahi Mahi certainly don't suffer from the same complexes. These dazzling, green-yellow beauties are stars of the show wherever they show up, and Costa Rica is no exception. Known as "Dorado" here and across the Spanish-speaking world, they're a staple for every deep sea angler.
Much like Wahoo, they're fast, strong, and all over the place. Oh, and they're very popular table fare, as well. With Mahi, however, you don't want to miss the photo opportunity. After working so hard and before savoring the sweet taste of success, make sure to snap a pic for the history books! Who wouldn't want a picture with this gem, anyway?
Tuna
Even if you haven't heard of the first two fish, there's no chance you don't know about the famous Tuna. All over the world, these fish are devoured in a number of ways. Sushi? Check. Steak? Check. Salads and sandwiches? You bet it. But did you know how big they can grow and how tricky they can be to catch?
These animals are cold-blooded so they can dive deep with your bait, making you work hard to reel 'em in. In Costa Rica, you'll have the bonus of targeting two species – the Skipjack and Yellowfin. And the Yellowfins steal the show. Growing to around 300 pounds, you won't fail to be amazed by their size. That is if you manage to hook 'em aboard before they break your line.
Sailfish
We'll leave the food world behind and focus on the sport of fishing in its purest form with this next one. Actually, that's not quite true. Remember what we said about the Mahi? Well, Sailfish may actually steal the crown for the most photogenic fish, so that's one other reason to target it.
These majestic species are as impressive as they are strong, though, so you'll need all your strength and plenty of skill to bring 'em in. The good news is that, even if you lose one, there are so many of them in Costa Rica's deep seas that you can just cast and try your luck again. Double-digit catches are not uncommon, so we're sure you'll find this if you come during the season.
Marlin
Close relatives of the Sailfish, Marlin are a bucket list fish for all serious deep sea anglers. While they may not dazzle as much as their cousins, they put up a fight that few others can match. Get ready for a feast for the senses, as they leap out of the water to get off the end of your line, putting on an acrobatic display like you've never seen before.
Three species of Marlin appear in Costa Rica – Blue, Black, and Striped. That puts this rich country at the top of many fishermen's must-visit spots. Striped Marlin are the smallest of the family, weighing in at an average of 200 pounds. Meanwhile, Blues and Blacks can get up to 1,000 pounds – although most tend to weigh around 400–500 pounds. Whatever you hook, though, you're sure to be impressed as you head home with a serious story to tell.
And More!
It doesn't end there! In fact, we'd need a whole book to go into detail about all the species on offer on a deep sea fishing trip in Costa Rica. On the way out to the drop, you're sure to come across some dazzling reef creatures, such as Snappers, Yellowtail Amberjack, and even Groupers.
But head to the serious deepwaters and these species get even bigger. Deepwater Groupers are among the most prized catches in the world, and they swim alongside Swordfish, promising a feast of delicious meat. With Rainbow Runner, Great Amberjack, and many more side-by-side across the seas, there's no end to what you can catch.
Costa Rica Deep Sea Fishing Techniques
So you know what you want to catch. How you can go about hooking it? In this section, we'll cover some of the most popular methods of landing fish in Costa Rica's deep waters, so that you come aboard already knowing what to expect.
Bottom Fishing
Normally associated with reef fishing, you can also try bottom fishing on a deep sea fishing adventure in Costa Rica. Usually on the way out to the prime hunting grounds, you'll get to practice dropping your line to the sea bed or around structure to entice the bite of some dazzling fish.
This is the best method for landing Snappers, Amberjack, and Groupers, as they feed along the bottom. The aim of the game is to mimic the bait fish these predators target, and trick them onto the end of your line by jigging or dragging your line. It's a great hands-on way for beginners to get into fishing and a productive way to fill the coolers.
Deep Dropping
So we mentioned that bottom fishing works well for targeting Groupers, but what about those who live hundreds of miles down? Well, there's a special technique to allow you to get your hands on them, known as deep dropping. It's not just Groupers, mind you. All the beasts of the bottom are in your sights, including Swordfish and many more. 
The rules of the game here are simple, much like bottom fishing. But you'll need some specialized equipment. Electric rods and reels allow you to bring these creatures up and avoid an hours-long battle that is sure to tire you out. Some traditionalists still use the old method, though, so if you fancy your chances, try looking them up.
Trolling
The most common method of deep sea fishing, however, is trolling. This means dragging a number of lines behind the boat with bait or lures, again mimicking bait fish who should be swimming along the top. You can try slow or fast trolling, with both being effective for different species. Fast trolling requires a lot of engine power that scares some of your targets, while slow trolling simply won't do for some of the fish preying on quicker species.
With multiple lines in the water come enhanced opportunities, as you're not just relying on one bait to do the trick. Make sure you ask your captain to show you how all the prep work is done if you're interested, as you'll sit back on deck as the trolling lines do their work. Then you'll leap into action when you hear the reels screech, entering into what promises to be a fierce battle.
Fly Fishing
It may sound strange to hear "fly fishing" on a list of deep sea fishing techniques, but experienced anglers know that there's no fish too big to be caught on the fly. Landing a Tuna or Sailfish on the fly is simply an exhilarating experience, but it's not for the faint-hearted.
It's tough enough to land these beasts on conventional gear, let alone on the fly. However, the fact that these creatures feed near the tops makes catching them with a fly possible. And with so many of them inhabiting Costa Rica's deep waters, there's always the chance of landing one. Check with your guide if they provide equipment or bring your own, and you could be in for the battle to end all battles.
Costa Rica Deep Sea Fishing Calendar
The next thing you'll want to know about your Costa Rica deep sea adventure is when to come, right? Well, the good news is that fishing is a year-round activity in these bountiful waters. In fact, some estimates say that fishing is good 95% of the time. However, some spots are better than others at different times of the year.
A good rule of thumb is to come during the dry season, which lasts from December through April. However, unless you come in September and October (the wettest months), you shouldn't have any problems in finding a safe charter any other time of year. Read on to find out where to go and when.
Costa Rica Deep Sea Fishing Spots
The North Pacific. Around Tamarindo and Papagayo, the best fishing is in spring and summer. The waters get deep quickly, so you'll waste no time in getting to the best hunting grounds, either. It's best to avoid here from October through April due to the weather, but come June there are pelagics all over!
The Central Pacific. Unlike the north, fishing here actually peaks over the winter, with November through April offering the best chances. While Marlin do show up in June, it may be wet in Jaco and the surrounding areas. Bear that in mind if you have the popular resort of Los Sueños on your to-visit list. But there's a reason the IGFA host numerous offshore tournaments in Quepos! Don't miss out on the fishing capital of the country.
The South Pacific. We're getting into unchartered territory here, but that just makes it better. You may need to head further out from Golfito and the Osa peninsula to reach the deep sea fishing grounds, but it's worth it. The seasons mirror those in the Central Caribbean.
The Caribbean. While this coast is best-known for its Tarpon action on the flats, you can try fishing further out for Queen and Cubera Snappers. They promise plenty of fun and a delicious meal year-round, from Tortuguero to Limón and beyond.
Is there anything else I should know?
We've almost completed our introduction to deep sea fishing in Costa Rica, but there are just a couple of things left to tell you. The rules and regulations, of course!
As with everywhere in the world, Costa Rica has drawn up a long list of requirements when it comes to fishing. In fact, it's one of the most advanced countries when it comes to conservation. That's why you'll need a fishing license before heading out on your offshore adventure. The good news is that they can be obtained pretty easily from the INCOPESCA website.
When it comes to other regulations, the most important thing to note is that all Billfish must be released. Most other species have a bag and size limit, but these are subject to change. But by heading out with a reputable captain, you'll make sure to stick to the law.
Costa Rica Deep Sea Fishing: Where Dreams Come True
Still not convinced that Costa Rica is the place for you? Well, we recommend that you try it yourself. This luscious country offers so much that you're sure to fall in love with it. Deep sea fishing here is just the jewel in the crown. Explore the rainforests, kick back on the beaches, and catch yourself a trophy to be proud of. There's nothing this country can't deliver.
Have you ever been deep sea fishing in Costa Rica? How was it? Have you got any tips or tricks to share? We'd love to hear from you in the comments below!