Reading Time:
8
minutes
Access to fish-filled ocean, great weather, and rich history – this is probably how we'd describe the "Ancient City." If you're visiting St. Augustine to catch fish and enjoy the oldest city in the US, you're in the right place. With the Atlantic Ocean minutes away from the city, you can always count on exceptional angling opportunities right at your doorstep. And when deep sea fishing in St. Augustine is on the table, you know it's gonna be world-class.
Before you decide to take your fishing adventure offshore, there are a few things you need to know. What are the potential catches and where can you find them? When is the best time to go deep sea fishing in St. Augustine?
In this guide, we did our best to answer all these questions so that you're prepared for your St. Augustine fishing trip. Let's start with what you can catch in this sportfishing paradise…
St. Augustine Deep Sea Fishing Catches
The best part is, there's always something biting out there. In St. Augustine, there are various interesting species that hang out anywhere from a couple of miles off the coast to the bluewaters roughly 60 miles offshore and beyond.
So, what are the top species you can catch in the deep waters of the Gulf? In this section, we'll go through our top picks from St. Augustine's big game menu.
Blackfin Tuna
As you plan your St. Augustine deep sea fishing adventure, you might wonder if you'll be able to do some Tuna fishing there. Well, the good news is, of course you can! Blackfin Tuna are available for anyone willing to do some trolling on the shelf edge 30 miles offshore. The only thing you need to know is when to look for your Tuna.
Blackfin are around any time of the year, although their bite differs depending on the season. Local anglers prefer fishing for them from Christmas until Easter, however, you can still find Blackfins during the summer months.
Billfish
We all know that hardly any sportfishing angler would want to miss out on the Gulf Stream Billfishing action. In St. Augustine, you're spoiled with choice; there's a nice trio of Sailfish, White Marlin, and Blue Marlin available for some action.
Generally speaking, any time is a good time for Billfishing in St. Augustine, especially between April and October. Sailfish hang out around the reefs, wrecks, and natural ledges close to shore during the summer months and all the way through September and October. Some Sails jam around weed lines, looking to snack on some Mahi Mahi.
When it comes to Blue Marlin, locals say that the only months without recorded catches are December and January. Big Blues pass through St. Augustine first in April and May and then in September. Just like Sailfish, a lot of Blue Marlins can be taken in relatively shallow waters – from 300 to 700 feet.
Snapper & Grouper
If you're fishing with a federally licensed charter during the open season, there's nothing that can stop you from fully enjoying some nice Red Snapper action in St. Augustine. In fact, you can just keep it within 3 miles offshore and fish for "Chickens" when the season allows!
While the season for big Snapper doesn't usually last too long, you can still spend some time fishing for Grouper. If you send your bait to the reefs or other bottom destinations, you can find Gag Grouper – or Grays, as locals call them. Gags begin showing in early March or even a bit earlier. In June, as the ocean warms up, you can head to a reef or wreck and look for schools of Gags.
Mahi Mahi & Wahoo
Fishing for Mahi Mahi is always a pleasure for anglers and captains around the world, and St. Augustine is no exception. Schools of these pelagic species are caught by trolling and can sometimes be caught while fishing for Sailfish. The best part about Mahi Mahi fishing in St. Augustine is that you don't have to go too far out!
Late spring and early summer is the ideal time to go for Mahi Mahi, although they still bite throughout the year. When the numbers begin to drop towards the end of the summer, anglers can switch their attention to Wahoo. These ferocious fighters usually stay until the spring.
And More
It goes without saying that this St. Augustine's deep sea fishing list isn't complete without at least half a dozen more species. Whenever you work the bottom, you can also find Black Bass, Amberjack, and even Sharks, while Kingfish, Barracuda, and Cobia might show up during your trolling action. So, it's safe to say that you're spoiled for choice in St. Augustine!
St. Augustine Deep Sea Fishing Techniques
Now that you know what's on Augustine's deep sea fishing menu, it's time to talk about how you can catch these species. Depending on what you're after, you can expect to spend your time offshore trolling, bottom fishing, deep dropping, jigging…or all at the same time.
It's always a good idea to book a deep sea fishing charter with a licensed captain. A professional crew knows some tricks that work best to help you land a big trophy. St. Augustine is home to a large fleet of charter boats, so you'll have a selection of trips available throughout the year.
Trolling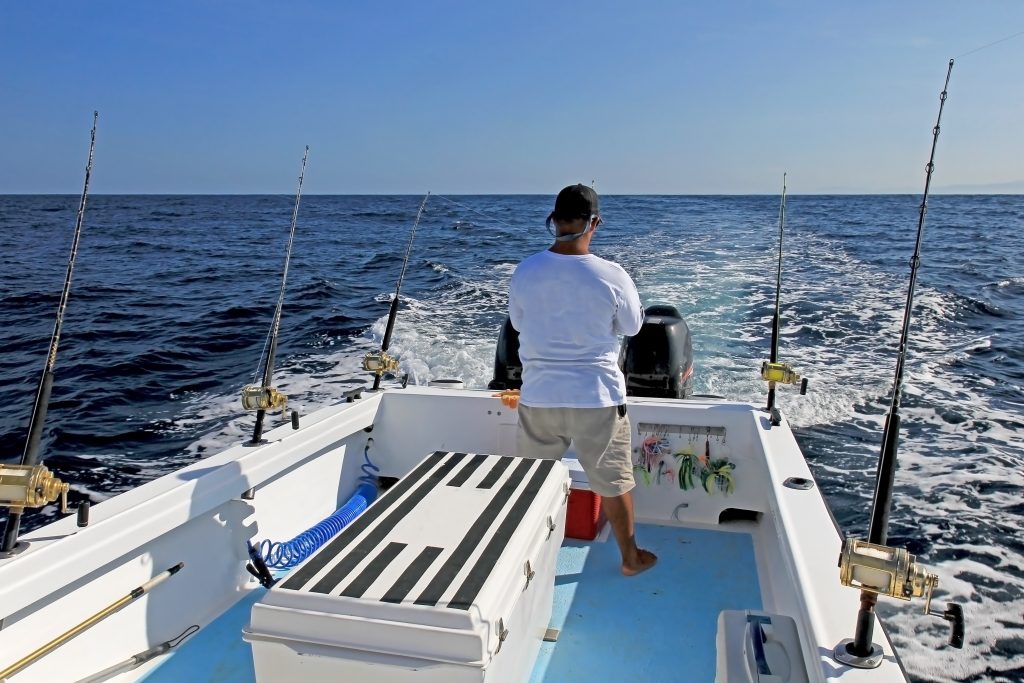 How is deep sea trolling done in St. Augustine? The majority of captains use cut bait, lures, or live bait, such as Ballyhoo and Mullet. They also use outriggers – long poles fitted on both sides of the boat. Outriggers are designed to hold fishing lines at a certain angle at distance from the boat while you cruise close to your targets.
As we mentioned earlier, there are various reefs, shipwrecks, and ledges ideal for some trolling action in St. Augustine. This method is your weapon of choice if you decide to go for Tuna, Blue and White Marlin, Sailfish, King Mackerel, Wahoo, and Mahi Mahi. Trolling is also a perfect technique to use when you're on your way to a spot.
Bottom Fishing & Deep Dropping
Bottom fishing in St. Augustine is the technique to get your hands on not only Snapper and Grouper, but some other critters as well. Your captain will most likely take you to wrecks, reefs, and other bottom structures where you'll get a chance to reel in one of the bottom-dwellers.
A good day of bottom fishing is actually action-packed, since you'll be doing a lot of reeling in. When it comes to bait, anglers normally use cut and live bait – both prove effective. Depending on what you're targeting, you can use a bucktail jig, frozen squid, pinfish, mullet, and sardines.
So, what about deep dropping? Well, this technique is reserved for bigger fish and deeper waters. If you're after big Amberjack, Snapper, and Grouper, you'll probably search for them around deep offshore wrecks and reefs.
St. Augustine Deep Sea Fishing Spots
So, what's next? Picking the best spot for deep sea fishing, of course. One of the things that makes the city so attractive is the number of offshore reefs and wrecks you have to discover. There's the Gulf Stream with its pelagic fish up for grabs all the way up to 70 miles offshore. Then, there's easy access to the Atlantic. Deep sea fishing in St. Augustine is all at your mercy.
Here's just a few spots to consider:
The Nine Mile Reef: As you leave the St. Augustine Inlet, you'll be soon greeted by the Continental Shelf. The Nine Mile Reef is one of the artificial reefs that is ideal for bottom fishing. Plus, it's only a nine-mile trip to the reef.
The Pop Warner Reef: This is another artificial reef located in federal waters. The Pop Warner is just a bit further offshore and offers amazing bottom fishing opportunities for Grouper and Snapper lovers.
Continental Shelf: The Continental Shelf offers arguably the best deep sea fishing grounds St. Augustine has to offer. There are multiple deepwater wrecks, including the Dorothy Louise and the Intruders wreck, along with some old airplanes. If you don't mind changing the pace of your fishing action, you might be rewarded with some amazing catches.
The "Rolldown": About 50 miles offshore lies a ledge in the ocean floor where you can get your hands on prized catches. This is the place to go for some great Marlin fishing, especially during the months of April, May, and September. However, you can still catch some big fish here any time of the year.
When to Go Deep Sea Fishing in St. Augustine
As you might've already guessed, deep sea fishing in St. Augustine is a year-round event. However, some months are better than others for targeting certain fish species – just as we mentioned in the Species section.
For example, you'll see more Amberjack and Mangrove Snapper near the reefs and wrecks as the ocean gets a bit warmer. Spring is also perfect for targeting Mahi Mahi, although they come back in autumn, too. Early summer is all about Blue Marlin and Sailfish.
Generally, the warmer season means bigger fish and richer selection than the winter months. If we were to set a strict seasonality, peak fishing would be from March through June, and then from September to October.
Anything else I need to know?
It's always important to be aware of Florida fishing laws and regulations. For instance, the federal Red Snapper season only runs for a few days during the year. Plus, there are minimum size and bag restrictions for a lot of fish species, which you should read about ahead of time.
The safest option is to book a trip with a licensed charter. Local captains usually cover all the necessary fishing licenses and permits for their anglers. Your captain will be able to guide you on which species are available at the moment, as well as tell you how many you can keep.
St. Augustine also hosts fishing tournaments, such as Northeast Florida Marlin Association Bluewater Tournament in April. As you can see, it's a challenge to get bored in the Ancient City, even if you're a competitive angler.
Deep Sea Fishing in St. Augustine – All Anglers Aboard!
Deep sea fishing in St. Augustine isn't only about legendary battles with huge game fish. It's also about getting a closer look at the fishing culture of the northeast coast of Florida. Reap the benefits of the mighty Gulf Stream, try fishing in the Atlantic Ocean with a professional crew, and seize the opportunity to grow as an angler. The best part is that you can come here anytime you want – and still find something big biting hard!
We always love to hear from you! Have you ever been deep sea fishing in St. Augustine? How was it? Let us know in the comments below.