Reading Time:
10
minutes
Welcome to Sunshine City, where the sun is in the sky for over 360 days a year, views are breathtaking, and what ties it all together are incredible angling opportunities.
You'll find this coastal city on the Pinellas peninsula, right between the Gulf of Mexico and Tampa Bay. From its location alone, it's easy to conclude that fishing in St. Petersburg, FL is simply magnificent.
Top Catches in St. Petersburg, FL
With endless sunny days, prolific fishing grounds, and hundreds of professional guides, St. Petersburg is a mecca for anglers from all over the country.
Productive flats, mangrove-lined shores, canals, and barrier islands are all brimming with inshore species that also happen to be favorite catches of the area. If you're craving offshore action, the Gulf is at your disposal. So, what will it be?
Redfish – The One Fish That Does It All
You'll hardly find a species that is more adaptable and more available than Redfish. A bronze glimmer of Redfish's scales in the shallows is always a welcome sight because it means an exciting fight and good eating after it.
The productive waters of Tampa Bay are the playground of Redfish of all sizes – anything from 10 to 40+ pounds is game! Pair that with their battle-ready temperament and you've got a fish that's a fun hookup for both novices and pros. You may see "tailing Reds," which is the expression for when the tail of the fish cuts through the shallow water's surface.
You can catch them all year, but the locals know that the best time to target them is from August to early fall. This is their spawning time, when they congregate in schools and you can find dozens of fish in one place. And when there's one hookup, there are many.
Look for your prey in the flats, along the mangrove shorelines, as well as between barrier islands with strong currents. During the low tide, you can wade for them in 1–2 feet of water, when they hide out in the deep sand holes.
If we're being honest, the chances of hooking a Redfish wherever you go on the bay are more than decent. So all you need to do is bring some exploration spirit and fishing gear!
Tarpon Fishing at Its Best
Everything there is to say about Tarpon fishing in St. Petersburg, FL requires a lot of superlatives. Fishermen from far and wide come here to catch themselves a trophy Silver King, the biggest and feistiest species of the nation's inshore waters.
To say Tarpon are the bruisers of this area is an understatement – these fellas will change your fishing career forever! From March–October, St. Pete's angling population can't get enough time on the water, going after their favorite fighter and acrobat.
There are two types of Tarpon in Tampa Bay – the residential fish that are available all year and migratory fish that stop by from May to late July. The time of the migration is considered the peak season, when you can find and hook a 200 lb monster on a good day. You can find Tarpon both before and after the peak, if you prefer to fish in less busy waters.
The Silver King is the famous inhabitant of the flats, and when you feel a 7' lunker pulling on your line, you better be ready for a fight. Timing and water temperatures (75°F and higher) are crucial for a successful Tarpon hunt, as well as strong gear.
The best fishing techniques for catching a Tarpon are sight fishing, casting, and fly fishing, among many others. Remember that all Tarpon are strictly catch-and-release fish and should be handled with utmost care.
Cast your line around underwater structures, flats, and back bays to find the best bite, and don't forget to bring a choice of bait, because Tarpon can be picky eaters sometimes. Anything from threadfins and pinfish to live crab is a good way to go. Hit the water and get ready for aerial acrobatics like you've never seen before!
Spotted Seatrout Is a Must-Catch
Even though locals sometimes call it Weakfish, there's nothing weak about having a big Trout on your line. In fact, Spotted Seatrout population of St. Petersburg is so strong that there are tournaments with sections dedicated to catching them.
Tampa Bay Trout really are the full package – they're fun to catch, they come in good sizes, they're beautiful and delicious. And on top of all that, they're abundant.
Just like the rest of their inshore brethren, you can target them year-round, but the peak months are usually from April–September. During that time, you can hook Gator Trout that weigh over 7 pounds and are more than 25 inches long. Average sized fish are often in the 5 lb range.
Seatrout like ambushing their prey from the thick grass in the flats, so these are some of the best grounds to look for them, as well as oyster bars. They're always hungry and will strike your setup with no abandon, and because they're so aggressive, you can take your pick of lures and bait. Sardines are always a safe choice, as well as live shrimp, but Trout won't say no to a well-selected fly either.
This is another family-friendly fish that even the kids will enjoy catching. What's more, they travel in schools, so chances of multiple hookups are excellent.
Always Be Looking For Snook
Another esteemed member of the inshore prized catches is Snook. They're easily one of the favorite inshore game fish, both because they're very smart and because they love to play hide and seek.
Fishing for Snook is open all year, but there are periods when they are exclusively catch and release, so make sure to check the regulations before you head out. Spring and summer are the best time to set off in search of a slob Snook, that can sometimes weigh up to 50 pounds. However, most fish average out at 25 pounds, which is still quite big and exciting to target.
Snook are skittish and like to hide out in mangroves, structures, oyster beds, and wrecks. They prefer warm brackish water, and as soon as the spring comes, you can find them around the beaches and flats. In the winter, look for them in estuaries and residential canals.
There are a few different aspects to keep in mind when targeting the so-called "Sargeant Fish." They get spooked by the noise, so it's important to stay quiet when your line is in the water. Go out during a strong outgoing tide, bring some pilchards and sardines, and Snook will come to you.
Anglers love going night fishing for Snook because that's when the fish come closer to the surface to find dinner. If you want to challenge yourself and your senses, this is the way to do it. It doesn't matter whether you go fishing during the day or night, with the right strategy, Snook hookups are in your future.
And Much More…
While the above-mentioned species are by far the most sought after ones, the inshore world of St. Pete is incredibly diverse and there are many, many species to choose from.
Sheepshead, Black Drum, Flounder, and Tripletail are all frequent catches, as well as big Cobia, Bluefish, and Spanish Mackerel. So if you'd like a mixed bag to take home, there are plenty of species swimming around, ready to bite.
What about offshore fishing?
For a lot of avid sport-fishers, inshore fishing in St. Petersburg, FL is the main act. However, let's not forget that the Gulf of Mexico is right on the west coast of the city. What does that mean for passionate fish-chasers?
Well, let's start with 15 different Snapper species, Grouper galore, and a King Mackerel extravaganza twice a year. Anything from Pompano and Flounder to Amberjack and Mahi Mahi is also in the cards. In the bluewater, look for Blackfin Tuna and Sharks. Whatever you're after in the Gulf of Mexico, chances are you'll find it and then some!
Types of Fishing in St. Petersburg, FL
There are as many types of fishing to try out in St. Pete as there are species. Whether you prefer fishing on your own, with a guide, or surrounded by fellow fishermen on a pier, St. Petersburg is your place to shine.
Pier and Bridge Fishing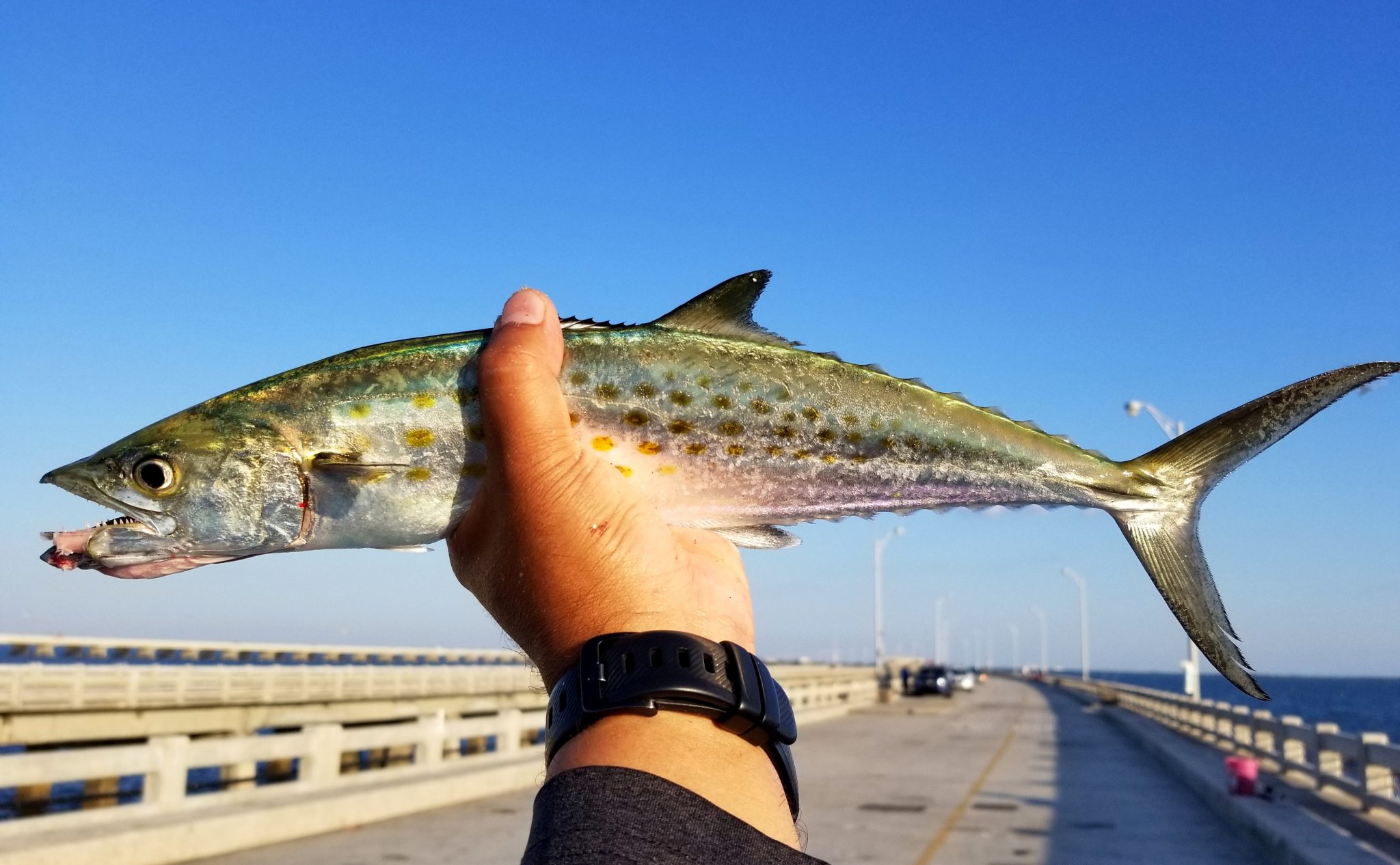 One of the main reasons solo fishermen love coming to St. Pete is the sheer number of fishing grounds. Locals claim that no matter what part of the city you're in, you're within walking distance of an angling spot.
Seeing that the city is surrounded by water, bridge and pier fishing is a hit among locals and visitors alike. All you have to do is choose a fishing spot depending on what you'd like to catch.
Some of the renowned spots include Skyway Fishing Pier, which happens to be the longest fishing pier in the world. Fort De Soto Park Fishing Pier is 1,000 feet long, right on the Gulf side, and perfect for your angling endeavors. Bring your gear, fishing license (if necessary), and let the fishing fun begin!
Kayak Fishing
Kayakers love exploring Tampa Bay and all its riches. With an abundance of rich backwaters, flats, and calm days on the bay, they're bound to have a good time here.
Brooker Creek Preserve is one of the favorite spots for kayak fishing. There's so much to target in the preserve, including Redfish, Spotted Seatrout, and Snook, and you can enjoy the beauty and peace of the surrounding nature.
Fort de Soto Park is another haunt of kayakers, as well as Caladesi and Honeymoon Islands, and Anclote Key. All these spots have gorgeous fish and waters picture-perfect for kayak fishing.
Fishing With a Charter
If you need a bit of help to find that red-hot bite in St. Pete, one foolproof way to do this is to hire a professional charter guide. Captains who run them are usually local experts with years (decades!) of experience and they'll know how to hook you up.
Whether you're looking for an inshore connoisseur or an offshore mastermind, you'll find them in one of the marinas. Inshore guides will usually show you to an array of fishing grounds, where you'll target a variety of species.
The offshore trips are often referred to as "six-pack" charters because they can take out up to 6 passengers. Shorter excursions will take you up to 20 miles from land, while full day trips can put you on Blackfin Tuna and pelagic species.
You can reserve a spot on a party boat, where you'll have a lot of company while hoping to catch something. The only question is, what species are on your to-catch list?
Fishing Tournaments in St. Petersburg
Seeing that the Sunshine City is a smorgasbord of angling possibilities, it's hardly a surprise that fishing tournaments are a big part of the social agenda.
The most popular tournament is "The King of the Beach" that happens twice a year, in spring and fall. King Mackerel that migrate close to the beaches are the main target. This 3-day tournament has existed for 30 years and has a nice $225,000 reserved for the winner.
On the inshore front, you can take part in the Spring Inshore Slam Fishing Tournament in March and the Johnny Kellar Inshore Fishing Tournament in January. Spearos can enjoy the annual St. Pete Open Spearfishing Tournament that takes place in August.
Top Fishing Spots in St. Petersburg
Talking about top spots for fishing in St. Petersburg, FL is like choosing your favorite child, there just can't be one. Still, here are some hubs that need to be mentioned.
Fred Howard Park. You'll find this beautiful park in north St. Pete – it's very easy to reach and sports a very rich fishery. Impressive-sized Tarpon, Bull Redfish, and Slob Snook are just some of the species you could find at the end of your line.
Fort De Soto Park. This place needs no introduction, it's got everything you need for a memorable day on the water. Piers, kayak outposts, and beaches are all there, you just have to decide where you want to fish from.
Pinellas Point to Safety Harbor. While the first two spots are all on the Gulf side of the city, the stretch from Pinellas Point to Safety Harbor is on the bay side. These flats are the playground of all the prized inshore species and a treasure trove for anglers.
Honeymoon Island State Park. This is THE place to be for Trout fishermen and it offers a top-notch bite all year. If you cast your line from the causeway, you could hook a nice Snook.
Skyway Fishing Pier State Park. Definitely the best-known pier in the city and beyond, casting your line from the Skyway is a must. You could hook Spanish Mackerel, Black Seabass, Grouper, Cobia, and the list goes on. The pier is open 24/7 and fishing-perfect.
Fishing Licenses and Regulations
Just like every time before you go fishing, you should check the current regulations, seasons, and license requirements. Solo anglers, in particular, should be informed about what kind of fishing license they need and what species they're allowed to keep.
If you want to fish from a pier, double-check if you need to pay an entrance fee. Sometimes when you pay a pier fee you don't need a fishing license, but regulations change on a place-to-place basis.
Anglers fishing with a charter don't have to worry about anything, licenses are included in the price of the trip.
St. Petersburg – the Fishery of Gods
If this heading sounds like an exaggeration, you've never been fishing in St. Petersburg, FL. Here, the underwater world and everything in it is up for the taking, and just about any angling dream could become reality. Experience all sides of Florida fishing without having to travel around the state – cast your line in stunning St. Petersburg!
What are your experiences with fishing in St. Petersburg, FL? Do you have any advice to help out your fellow anglers? Have you had any trophy catches? Share your stories in the comment section below.