Reading Time:
7
minutes
It's hard to name a more iconic river in Alaska than the Kenai. Everyone who has held a rod in their hands knows that it's one of the best places on Earth to fish for Salmon, yet it's so much more than that. Kenai River fishing is so intense that you'll grow as an angler after just one trip. 
The world-famous Kenai River begins in Cooper Landing, flowing 82 miles from Kenai Lake and emptying into Cook Inlet. It is divided into three parts – the Upper, the Middle, and the Lower Kenai River. The cherry on top of the cake is that each of the sections of the river holds something unique – from acrobatic Trout to record-breaking King Salmon.
Before you pack your rods and head out on your fishing adventure, you might need to know a bit more about what the river has to offer. In our guide, we've gone through the most sought-after fish in the Kenai River and the best places to cast your line. Let's start with the top catches.
What can I catch in the Kenai River?
A league of its own, the Kenai River holds a huge number of premium freshwater fish catches. There's plenty on offer for both conventional anglers and fly fishermen. However, 10 runs of Salmon, consistent fishing, and a great variety of species are available only throughout the summer months.
Chinook Salmon – The Mighty Kings
When King Salmon fishing on the Kenai River, you can shoot for the biggest trophy possible. We mean it: the river holds eight out of ten world records. If you are lucky, you can land an 80 lb King, although it's more common to catch fish weighing 30-50 pounds. The best way to land your Chinook Salmon will depend on the particular section of the river you're fishing.
Kenai King Salmon enter the river twice throughout the season. The first run starts in mid-May and peaks in mid-June, while the second goes through July until the middle of August. The Alaskan Department of Fish & Game usually closes the season down on the last day of July.
Coho Salmon – The Silver Prince
Just like the Kings, Coho Salmon are a part of Alaskan history and heritage. These majestic fish are actually pretty aggressive and always put up a fight. Anglers can catch them with fly or spinning rods, although whatever works for Chinook Salmon works for Coho as well.
The first run of Silver Salmon begins right after the second run of Chinook Salmon ends and goes through mid-August. By that time, late Silvers will have worked their way up the Kenai River to battle with anglers from all over the country. The second run ends in October, with some of the strongest fishing happening in mid-September.
Sockeye Salmon – The Magic Reds
Sockeye "Red" Salmon will not disappoint you in terms of sheer volume and, of course, their size. The Kenai River Reds are actually bigger than anywhere else in Alaska, averaging 8-12 pounds. They tend to hang out in the shallower waters closer to the bank.
Sockeye Salmon fishing on the Kenai River begins in early July, peaks later in the month, and is complete by mid-August. These fish are usually caught by using a technique called "Kenai Flip," which also goes by a variety of other names. Most Kenai River anglers use a special Russian River Coho fly or a streamer.
Rainbow Trout – The Shiny Ones
Kenai River Rainbow Trout fishing really can't get any better. Even beginners are able to have a productive day here. You can easily get double digits by wading and drift boat fishing, especially if you head to the upper portion of the river from Skilak upstream to Kenai Lake.
The best part about Trout fishing on the Kenai River is that you can target them all year round. However, late fall or early winter are ideal for those who want to avoid the Salmon crowds.
Dolly Varden – The Most Handsome Trout
The Kenai River produces outstanding Dolly Varden, both resident and ocean-going. They can be caught throughout almost every inch of the river all year round, however, you need to check the regulations on which tackle you can use.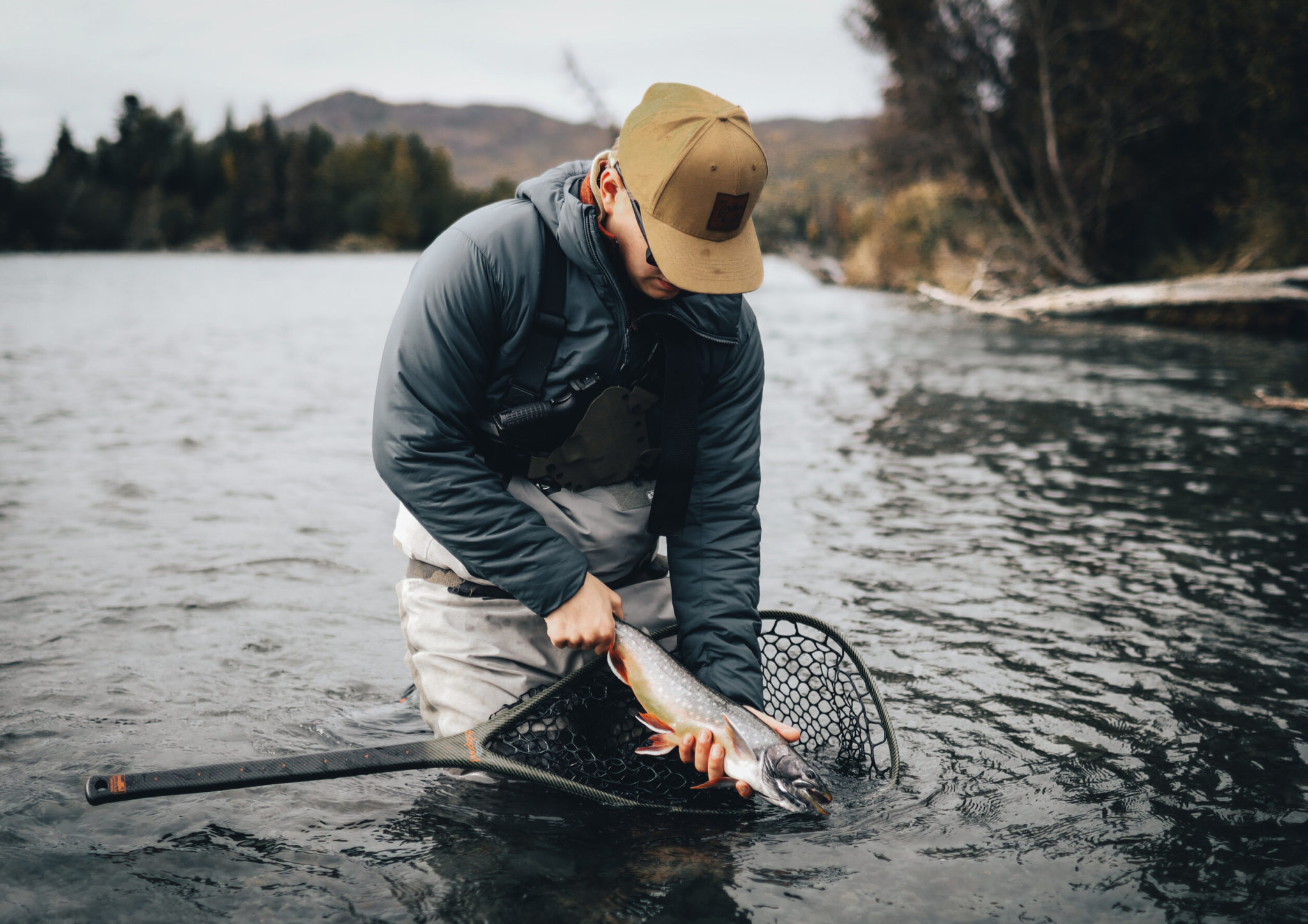 To get a real taste of Dolly Varden fishing on the Kenai, head to the upper section of the river and The Kenai National Wildlife Refuge anytime from July to September.
And More!
The Salmon and Trout species we highlighted above are the main characters on the Kenai River's fishing scene. But, as we mentioned earlier, you can get your hands on other interesting species as well. A small Northern Pike fishery is open throughout the year with seasonal regulations. As well as that, you can enjoy fishing for resident Lake Trout.
How can I fish the Kenai River?
Kenai fishermen prefer using traditional fishing techniques to land their Salmon and Trout, while also mixing in a few local tricks. Below, we covered the most popular ways to fish the Kenai River that can suit any type of angler.
On a Boat
If you decide to book a trip with a Kenai River charter guide, you will be able to effectively follow your target fish and check out the honey holes. Kenai guides can help you learn everything about the area you're fishing. Plus, some guides carry special permits that allow them to take you to the restricted areas. What can be better than a hassle-free fishing trip with an experienced guide armed with plenty of local knowledge?
Some boats are better for Salmon drifting, while others are more suitable for back bouncing. If you book a trolling trip, you will spend your day on a sportfishing boat that is ideal for back trolling and helps you switch your spots faster to get that bite.
On Foot
You already know that the Kenai River is arguably the most popular river in Alaska, so it's no wonder people come here from all over the country. Apart from incredible Salmon and Trout fishing opportunities, visitors come for other outdoor activities, such as hiking.
You can find numerous spots to fish on foot along the Kenai River, especially in parks, dams, and major towns. During the season, these areas can get pretty crowded, so you may need to wade through hundreds of fellow anglers.
If you don't mind the crowds, set up your gear along the banks and enjoy the action. Be careful, though, because you might share the fishing hole with a bear!
Where can I fish the Kenai River?
Anything else I need to know?
Before you venture out to that beautiful Alaskan river, make sure to go through the current Kenai River fishing regulations. All residents aged 18 and nonresidents 16 and older must obtain a fishing license and a King Salmon stamp (if that's what you want to fish for.) You can purchase them online or at a local sporting goods store and Fish and Game office.
Each section of the river has its own set of rules and restrictions. For instance, you can never fish for Chinook Salmon in the Upper Kenai River, as this is where the spawning grounds are. As you already know, Salmon and Trout have open and closed seasons. You can always find out more on the ADFG website and from your guide.
Kenai River Fishing: The Ultimate for Anglers the World Over
The Kenai River fishery is a thing to behold. You will only realize how insanely good the fishing is once you've tried it yourself. Imagine landing your own trophy Trout or record-breaking Salmon. Picture yourself with your favorite fly rod, ready to cast a line and enjoy the finest fishing in Alaska. Even if you think you know the Kenai River by heart, there is always something new to discover here.
Have you ever been on a Kenai River fishing trip? What did you catch? What is your favorite spot on the river? Let us know in the comments below!