Dana Point Tuna (Bluefin) Fishing Charters
Best Tuna (Bluefin) Fishing Charters in Dana Point
---
Best Tuna (Bluefin) Fishing Charters in Dana Point
---
Top Tuna (Bluefin) Fishing Charters in Dana Point
---
Tuna (Bluefin)
Size 200 to 600lbs
Food Value Excellent
Game Qualities Excellent
Habitats Offshore
Tuna (Bluefin) Fishing in Dana Point
Dana Point Tuna fishing has been incredible in recent years. The summer migration of big Bluefin has triggered a secondary migration of hardcore sport fishers, determined to get in on the action. If you've been feeling cravings for screaming reels and foaming seas, then you may have caught the Bluefin Bug. And there is only one cure - get out there and catch one!
When and where?
Bluefin season kicks off early in the summer, with the first big fish showing up in the beginning of June. What follows are three months of deep-sea warfare, with massive Tuna hounding baitfish through the deep cold trenches which cut through the seabed around Dana Point. This makes for ideal fishing as the Tuna follow their prey towards the Channel Islands, and meet predators of their own.
Most Dana Point Tuna fishing happens around these islands. Santa Catalina and San Clemente are particularly popular, with the ominously-named Desperation Reef making an appropriate battleground for targeting monster Bluefin. It can take several hours just to get out to these islands but that is nothing by Californian standards. Indeed, many opt to go all-out on a multi-day trip, heading way out past San Clemente and into Mexican waters.
How will I catch them?
There are a hundred ways to target any fish, and every guide worth their salt will have a favorite. One of the most effective techniques is to chum the water with a bucketful of live squid, throwing your own bait amongst them and waiting for the hook to sink. While this may seem somewhat unrefined it certainly gets the job done, and is a common tactic aboard Dana Point Tuna charters.
For a more specialist set-up, you can try kite fishing for Tuna feeding near the surface. Kite fishing was pioneered here, and many guides have spent years perfecting the art. Live mackerel or specialist lures like Yummy Flyers can both bring in some truly massive Tuna.
Tuna (Bluefin)
Size 200 to 600lbs
Food Value Excellent
Game Qualities Excellent
Habitats Offshore
Dana Point Tuna (Bluefin) Fishing Seasons
Loading Fish Calendar!
Please Wait...
Seasonality
Tuna (Bluefin) fishing in Dana Point varies moderately throughout the year. High season is June to July. Low season is January to March and November to December. There is no closed season.
---
Fish Species Similar to Tuna (Bluefin) in Dana Point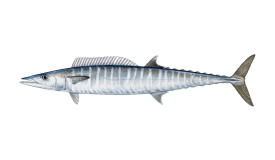 Size 15 to 35lbs
Food Value Average
Game Qualities Excellent
Habitats Nearshore, Offshore, Reef
---
Based on 17,433 reviews by FishingBooker anglers