Captain
Dale Johnson
Member since September 2016
Fremantle, Australia
Hey, I'm Captain Dale Johnson
Fremantle, Australia
My Charter Listings
Customer Reviews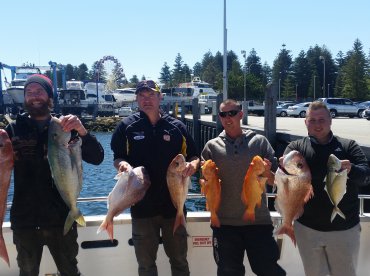 Rating summary
4.22

out of 5 stars

from

3

reviews
Angler rating
| | | |
| --- | --- | --- |
| 5 star | | 2 |
| 4 star | | 0 |
| 3 star | | 1 |
| 2 star | | 0 |
| 1 star | | 0 |
---
---

Great day out on the Edjargo with plenty bait, food and drinks. Dale and Liam always there to ensure you get the catch, and give you the experience you're after.

Adrian Shrubsall recommends Edjargo Marine

Fished October 2016
Replied to this review on Monday, October 17, 2016

---

Hi Adrian,
Thanks for taking the time to review our fishing charter, it is much appreciated. It was a pleasure having you and your son out with us. We look forward to having you out in the future. I have attached a photo of the fish your son caught (with a little help). Enjoy!
---

A great day out on the water. The boat was awsome the crew were professional, helpfull and good fun. they really knew there stuff. EXPERTS IN THERE FIELD. i can not speak highly enough of them. The boat was a beast of a thing and we were not crowded on there plenty of room to fish for everyone. Unlike one charter boat we saw on the water. They provided coffee and tea once we boarded. Then there was plenty of cold drinks and food when we were out on the water fishing. No one went home empty handed. I will definitely go out with these guys again and higly recomend them to anyone else thinking of going on a charter..
Regards tim

Tim McInnes recommends Edjargo Marine

Fished October 2016
Replied to this review on Thursday, October 13, 2016

---

Hi Tim,
Thanks for you review, it is greatly appreciated. We enjoyed having you out with us and look forward to the next time we take you fishing. Cheers
---

Yap Kin Weng does not recommend Edjargo Marine

Fished September 2016
Replied to this review on Thursday, September 29, 2016

---

Thanks for your review. I remember the day you came out, I agree it wasn't a great day as the weather came in quicker than expected and the fish were being very difficult. Even though not a lot of fish were caught I do remember that the crew gave you some Breaksea Cod that we caught, to make sure you got a fish to take home. I also remember we provided you with free lunch that day, even though you only booked at 8pm the night before and your package was BYO (which meant myself and the crew went hungry). On top of that we must've tried over 20 spots and covered over 50NM, coming in less than pleasant weather. So I think we did everything in our power to provide you with the best day on our vessel, given the circumstances, and its just unfortunate that we didn't land a bag full of fish!