Snapper, Mahi Mahi & Bonito--fun times!!
Snapper, Mahi Mahi & Bonito--fun times!!
Trip Info
Dolphin (Mahi Mahi)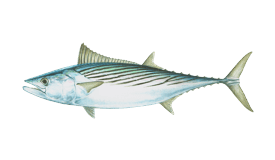 Bonito
Snapper (Red)
Today we took a private trip with friends and family out to the federal waters to see if we could fill everyone's freezer with snapper fillets. This was day two of the federal snapper season.
Conditions were rough with 30 MPH winds. We aimed for a spot where a platform used to be and which provided an angled approach to the sea. This spot was about 16 miles offshore and took about an hour to reach.
Upon arrival we tried trolling around the spot, but with no success. We could see fish on the sonar—stacked up the water column over what we supposed was the rock and gravel pad laid down as a base for the platform. We dropped our lines and were limited out with ten sow snapper in about half an hour.
On the way back, we again set up the trolling lines and managed to pick up a Mahi Mahi and a Bonito. The fishing went a long way in balancing the discomfort of the ride out, plus we all have lots of snapper fillets in our freezers now.
Book your trip with Buena Vida Charters
About The Captain
Champ Earwood
Aransas Pass TX, United States • Member since June 2017
I enjoy fishing the Gulf of Mexico for the wild and exotic sense of the open water. I started guiding as a favor to a friend of mine, Robert White. Robert had a very nice Bertram 31 Flybridge sitting idle for way too many days of the week. And as any boat owner knows, idle time is bad news for a boat. So we agreed that I would operate and maintain her and we would both benefit. Me for my love of the ocean and fishing, and he for a boat that is sound and ready to go at any time. While the Red Snapper is the most prolific, I prefer the Tunas, Wahoo and Sails.
Response time: within an hour
Response rate: 100%
---

Weather Protection
Canceled due to bad weather? We'll help reschedule or refund.
Best Price Guarantee
Found the same trip for less? We'll refund the difference!
Service You Can Trust
7 day customer support for a hassle-free fishing experience.
Trusted Payments
Book via our secure platform and enjoy flexible payment options.