Double Marlin strike with a bit of wahoo
Trip Info
Marlin (Blue)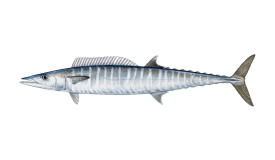 Wahoo
With a little late start around 7 AM on the 30th we headed out towards 11 mile to get the lines all set up, with a bit of a north east swell we found a school of birds that just didnt seem to want to produce any action.
Making the decision to head down towards Galvez banks we Hit our first marlin at about the half way mark. After about a 30 min fight we had her on board and continued our route towards Galvez banks.
Right as we got to Galvez, we hit the 200 mark to troll for wahoo, the reels started screaming HARD, I was thinking it was a Big ass wahoo until I looked back and saw the marlin just going crazy! We had a great hook in the bill and it wasnt coming out, with another 30min fight we had her on deck and both had weighed in around 110lbs.
Shortly after as we set our heading back towards Agat marina we picked up a nice 25lb wahoo :)
Fish on!
-Captain Chase
Book your trip with Rockstar Charters - Liquid Soul
About The Captain
Chase Weir
Agat , Guam • Member since April 2018
Rockstar Charters is a team of experienced watermen who enjoy the ocean and everything it has to offer. The crew calls themselves "a rare breed of oceanic gurus, curators of ocean adventures, ambassadors of the sea, and connoisseurs of rock." They are not driven by ego and a thirst for limelight; they are looking to translate the language of the sea to those who want to understand it.
Response time: 1 hour
Response rate: 100%
---