Big Yellowfin tuna and black marlin
Big Yellowfin tuna and black marlin
Trip Info
Tuna (Yellowfin)
Wahoo
Grouper (Red)
Marlin (Black)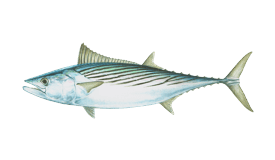 Bonito
Marlins point the tip of their rostrums to the delight of our 5 friends fishermen from Barcelona to "track" for 4 full days around Rodrigues on board L'oiseau des îles II. 7 strikes of marlins > 2 marlins caught (1 released and 1 kept because it was not possible to revive him) Yellowfin tuna and wahoo were also of the party! As we release as much as possible the fish rostrums, trevally and doggies, we show them "under water" which gives great photos !
Book your trip with L'Oiseau des Iles II
About The Captain
Cyril Faure
Ile Rodrigues Port Mathurin , Mauritius • Member since March 2014
Trained by former world spearfishing chamion Jean-Baptiste Esclapez, Cyril strives for perfectionism when it comes to serving his guests. He loves to learn and never stops trying to expand his understanding of the fish behavior. As the captain of "L'oiseau des îles II", Cyril has put all of his fishing expertise to customize and optimize your very own Mauritian fishing adventure.