Women also catch big fishes !!!
Women also catch big fishes !!!
Trip Info
Barracuda (Great)
Snapper (Red)
Tuna (Yellowfin)
Wahoo
Grouper (Red)
Trevally (Bluefin)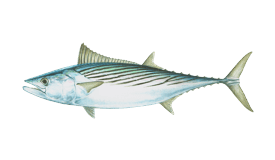 Bonito
Great performance of Beatrice for her first big game fishing trip in the Indian Ocean aboard L'oiseau des îles II, with lots of big fish caught. Here with two beautiful specimens: a big wahoo of 65lbs and a vara-vara (released).Very good weather during those four days on the bench Hawkins that allowed Beatrice, her husband and a couple of friends in a multitude of different fish species, most were released.
Book your trip with L'Oiseau des Iles II
About The Captain
Cyril Faure
Ile Rodrigues Port Mathurin , Mauritius • Member since March 2014
Trained by former world spearfishing chamion Jean-Baptiste Esclapez, Cyril strives for perfectionism when it comes to serving his guests. He loves to learn and never stops trying to expand his understanding of the fish behavior. As the captain of "L'oiseau des îles II", Cyril has put all of his fishing expertise to customize and optimize your very own Mauritian fishing adventure.