Visitors from Dubai in Mahi mayhem
Visitors from Dubai in Mahi mayhem
Trip Info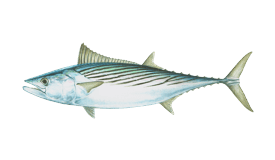 Bonito
Dolphin (Mahi Mahi)
King Mackerel (Kingfish)
Trevally (Golden)
Perfect weather conditions to try out our new Pro Line 33ft Sports fisher. Spotted and got the marks for a bunch of offshore FADs, around 20 miles out. Full days fishing so we had time to explore, running two surface lures, two divers and a daisy chain teaser, we headed past the marks and…...every single rod went off! The water around the FAD erupted as a school of hungry Mahi destroyed everything out there followed by some even bigger Mackeral. The riggers were the first to go with both fish being lost to big King Macks, so extra pressure on the divers to get them in fast. Two Mahi in, daisy chain almost being pulled from the holder, Kam jumped onto it, only to have half the hooks removed by the razor gang. So quick rerigging of the lines and lures and back past again, same same. The bite was on fire to say the least, as we trolled past the FAD we could see the Mahi being chased all over the place by massive Mackeral, but BAM! didnt stop them hitting the lures again. Some very fast retrieves saw most of the fish make it to the boat this time. This carried on almost all day long. In fact it was such a good session, the guys booked the following day too. Note, only one fish was taken for the table, all others were released unharmed.
Book your trip with Extreme Academy Koh Tao - Big Jig
About The Captain
Tobin Whiting
Tambon Ko Tao, Thailand • Member since September 2014
Spent my entire life fishing since I was able to hold a rod. My passion for fishing grew as did my love for boats and the open ocean. Began fishing with friends aboard my first boat and the rest is history. Raced Thundercats and owned and operated a Marlin fishing boat out of Sydney Harbour, Australia for the past 20 years, raising Marlin almost 90% of the time. Seeing Marlin alongside is an experience no fisherman will ever forget, whether it's the first or the hundredth, it's always amazing.
Response time: 6 hours
Response rate: 100%
---