Aruba Deep Sea Fishing Charters
Best Deep Sea Fishing Charters in Aruba
---
Best Deep Sea Fishing Charters in Aruba
---
Deep Sea Fishing in Aruba
The deep sea fishing Aruba is known for always has something to deliver. Anglers here catch the likes of Marlin, Sailfish, Tuna, Wahoo, and Mahi Mahi all year. With the hottest fishing grounds just a few miles from shore, this world class fishery is all the more accessible. So come aboard, drop your line in several hundred feet of water, then head back to shore in time to enjoy your catch for lunch!
When to Go Deep Sea Fishing
Most local charter fleets are based in the capital city Oranjestad, on the west side of the island where the winds and water stay calmest. Depending on your target species and the time of year, fishing grounds on the north and south side of the island can produce some of the best action.
In fall, many anglers chase after Sailfish along the banks of the south shore, then they head north in winter to catch Blue and White Marlin. If you're eager to hook into all three of these Billfish and earn bragging rights to a Grand Slam, plan on fishing in late fall.
Summer marks the peak season for Tuna and Mahi Mahi, while winter is all about Wahoo, Marlin, and bottom fish.
Aruba Deep Sea Fishing Charters
Handline fishing is the most common method used in Aruba, and you can expect to try your hand at this while deep sea fishing here. Relying on little more than a fishing line, hooks, and lead weights, local anglers fish in water hundreds of feet deep and wrestle with massive game fish, often pulling them aboard with their bare hands. Alternatively, some local charter boats troll with live bait or lures to help you catch pelagic predators like Marlin, Sailfish, and Wahoo.
With steep drop offs only minutes from the dock, it takes no time at all to reach the fishing grounds. Anglers can take their pick of 4, 6, and 8 hour charters, typically ranging from $400-$800 in price. Trips usually include fishing licenses, bait, and gear.
All in all, it's easy to make a little space in both your schedule and your budget for a chance to explore the magnificent deep sea fishing Aruba has on its doorstep!
Top Deep Sea Fishing Charters in Aruba
---
---
What People Are Saying About Deep Sea Fishing in Aruba
"Half day AM Trip"
---
Trip was great!!!!! The captain and deck hand were phenomenal! My husband and I were hoping to get 1 fish a piece and we came back with 9 total!! Best Deep Sea Fishing trip we've ever had, they know where the fish are!
"6 Hour trip with Captain Milton and first mate Michael"
---
First Deep Sea Fishing Trip! Captain Milton and First Mate Michael did a fantastic job of making this trip a great memory. Caught Mahi Mahi and a couple of Sail Fish. Would recommend the Teaser for my next Charter!!
---
Top Targeted Deep Sea Fishing Species in Aruba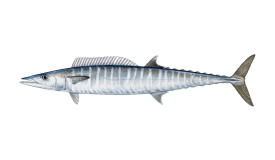 Size 15 to 35lbs
Food Value Average
Game Qualities Excellent
Habitats Nearshore, Offshore, Reef