Panama City Beach Deep Sea Fishing Charters
Best Deep Sea Fishing Charters in Panama City Beach
---
Best Deep Sea Fishing Charters in Panama City Beach
---
Top Deep Sea Fishing Charters in Panama City Beach
---
Deep Sea Fishing in Panama City Beach
Deep sea fishing Panama City Beach is one of the many treasures you can find in Florida. The blue water odyssey is as exciting as it can possibly be. If big fish are something you are after, take your fishing buddies, choose a captain to guide you, and have fun.
What to catch
When it comes down to the deep waters of the Emerald Coast, be prepared to land a wide variety of fish species. Whether you are an avid angler or a seafood lover (or both), you will love tackling the ferocious fighters. To name just a few, you will be concentrating on Marlin, Mahi Mahi, Tuna, and Wahoo. Plus, there are many reef species to go for, including Grouper, Snapper, and Amberjack.
However, those big boys are not your only target. With deep sea fishing in the Gulf of Mexico, you can head to the floating oil rigs for Mahi Mahi and Yellowfin Tuna. Or go Swordfishing at night if you are up to a challenge. The sunrises and sunsets there are to die for! Drift in 1500 to 3000' of water.
Opt for an overnight or a multiday trip. Check the distant offshore grounds somewhere 70-200+ miles out. Target some really big species, such as Blue Marlin and big Tuna. There are so many exciting opportunities when you have underwater mountains, weed lines, tide lines, and oil rigs.
Soak up all the fishing excitement that is guaranteed by just about any local captain. Any given day deep sea fishing in Panama City Beach gives you a taste of being out on the open sea.
When and how to fish the deep seas of Panama City Beach
Bottom fishing trips are one of the most popular around. You will head to an artificial reef or natural bottom, where your captain will fire down live or cut bait. The targeted species are Mahi Mahi, Amberjack, Snapper, Grouper, and Mackerel, as well as Triggerfish and Sharks. Try some bottom fishing before heading out further.
Trolling trips could also make your arms sore. You can wrestle ferocious Sharks, gigantic Grouper, and what not.
Wahoo are not around in winter along with Mahi Mahi. They can be caught from mid-summer all the way through October. Tuna show up a bit later in May but stays longer. You can test your angling skills and try your luck with Tuna until November.
Marlin and Sailfish can be found any time from May until October. Triggerfish and Amberjack fishing is a seasonal pleasure. The seasons are usually open in May for Amberjack and March for Triggerfish. You will have to ask your captain when is the best time to go for those monsters.
---
What People Are Saying About Deep Sea Fishing in Panama City Beach
"4 hour trip with Captain Jim!"
---
This was our first trip Deep Sea Fishing! We fished for about 3 hours (30 mins of riding there and back.) We caught Trigger fish, Red snappers, blow fish, tuna, mackerel, catfish, and TWO 6 ft nurse sharks! Our captain was very nice! We had so much fun and will definitely be doing this again!! Longer than a 4 hour trip next time!
"Very good communication "
---
This was a very nice experience. Most of my family had never gone Deep sea fishing, however they all had a blast and want to make this a annual event! Captain Bob responded very quickly to any question, Deck hand Jim was very knowledgeable and was ready to assist.
---
Top Targeted Deep Sea Fishing Species in Panama City Beach
Size 5 to 20lbs
Food Value Excellent
Game Qualities Good
Habitats Nearshore, Offshore, Reef, Wreck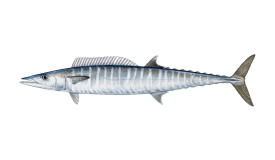 Size 15 to 35lbs
Food Value Average
Game Qualities Excellent
Habitats Nearshore, Offshore, Reef