Spanish Wells Spearfishing Charters
Best Spearfishing Fishing Charters in Spanish Wells
---
Best Spearfishing Fishing Charters in Spanish Wells
---
Spearfishing in Spanish Wells
Also known as the "Lobster Capital of the Bahamas," the fishing village of Spanish Wells is located west from the northern tip of Eleuthera. With only around 1,500 residents and very little fishing pressure, this is a perfect destination for adventurers looking to escape the crowds and try something new and exciting. And what better way to do both than trying your hand at the spearfishing Spanish Wells has in store?
What to Expect
Spearfishing with Spanish Wells fishing charters will see you free diving in the depths of 10–50 feet, snorkeling, or even wading. You'll be using Hawaiian slings since spearfishing guns, as well as scuba gear and air compressors, are strictly forbidden. Your guide will take you to the most productive local reefs. Checking out the famous Devil's Backbone coral reef and nearby shipwrecks is an absolute must.
The main target on these trips is Bahamian Lobster, also known as "crawfish" among locals. Spearfishing in the area will also include hunting for an incredible variety of Snapper, Grouper, Hogfish, Jacks, and even the infamous Lionfish. This is an invasive species that came here from the Pacific Ocean, and harvesting them is highly encouraged. Don't miss the chance to land one of the most delicious species in the area!
How to Prepare
Spearfishing is strictly regulated by the Bahamian government, so fishing with a licensed local charter is your best option to make sure everything runs smoothly and according to the law. You also won't need a license if you go on a guided trip. Most of the charters will supply all the needed gear, as well as clean your catch. You just need to bring sun protection, drinks and snacks, and layered clothing.
Spanish Wells spearfishing combines the best of both worlds – the fun of diving and the thrill of the hunt. Don't miss your chance for a life-changing experience!
---
Top Targeted Spearfishing Species in Spanish Wells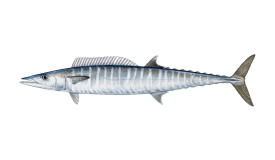 Size 15 to 35lbs
Food Value Average
Game Qualities Excellent
Habitats Nearshore, Offshore, Reef
Size 5 to 15lbs
Food Value Good
Game Qualities Average
Habitats Inshore, Nearshore, Reef, Backcountry