Dubrovnik, the capital of sea monsters!
August&nbsp06,&nbsp2020
Dubrovnik
1 video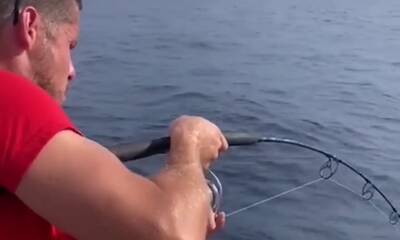 After several hours of fishing on Sv. Andrija (Saint Andrews) island we finally got a good strike and at first we thought the lure was stuck to the bottom. The line started going out and it was obvious there was something on. And it was the biggest fish ever, we had no idea. Since we detected tuna on our fishfinder several times we thought that it was on the rod. But it acted weird, not a tipical tuna behaviour. The line got loosen and it looked like we have lost the fish. After 10 seconds, huge fish jumped out of the water, 1m aerial and it almost splashed us with water. I asked John "Is that on your rod? And he just nodded". During our fight with a monster, a 5 meter manta swam under our boat. After 45 minutes into fight there was a huge surprise. +200 kg beautiful sunfish that got stuck on our lure by accident. Terriffic, massive, impressive fish was released successfully. What a day!
Maritimo Fishing invites you down to Dubrovnik to explore the prolific waters of the Adriatic Sea. Discover the hottest fishing spots, enjoy the finest angling, and learn a couple of local fishing techniques that have been crafted through the centuries. J...