Baja Mosquito Fleet
Member since July 2014
La Paz, Mexico
Background

Been doing this forever
Baja Mosquito Fleet
La Paz, Mexico
Background

Been doing this forever
Verified
Our Charter Listings
Fishing Reports
January 24, 2016
We were targeting snapper today and hit the jackpot, just take a look at our photos to believe it. Come on down right now to into the the frenzy! Read Full Report →
---
September 11, 2015
Incredible Dorado fishing right now in La Paz. Every boat catching limits and so much fun in the sun! Read Full Report →
---
August 22, 2015
Just fantastic La Paz fishing with Dorado wide open and marlin, sailfish, strippers and snapper. So much fun and consistent fishing all day! You have just got to get down here now! Read Full Report →
---
July 11, 2015
Dorado everywhere from 20-40 lbs and marlin showing up too! We had such a mixed bag today with snapper, sea bass, trigger fish and a bunch of quality Dorado! Come and fish' em up with The Mosquito Fleet today! Read Full Report →
---
June 17, 2015
What a great week of Dirado fishing in La Paz it has been with consistent action and amazing fun as always! Come on down to fish 'em up! Read Full Report →
---
May 09, 2015
Incredible Amberjack action at the seamounts of El Bajo with fish from 45 to 90 lbs and water temperature around 76f. Marlin starting to appear and yellow fin tuna coming in too! Get your bags packed lightly for La… Read Full Report →
---
April 04, 2015
What a day of fishing! Yellow tail action was solid today with 30-40 pounders pulling all day long as well as the odd Dorado too! Read Full Report →
---
February 22, 2015
La Paz is fantastic right now with wide open Dorado fishing and incredible yellow tail too. Seabass, snapper and sierra Mackeral too. We have eight boats yesterday all catch limits by midday and dorado were seriously fun with double… Read Full Report →
---
February 07, 2015
Well I have never experienced a year like this after twenty years fishing La Paz February is proving to be an excellent month for fishing with Dorado catch wide open from 15-45lbs and yellow tail too! The weather is… Read Full Report →
---
December 15, 2014
Come visit La Paz and fish it up! Read Full Report →
Customer Reviews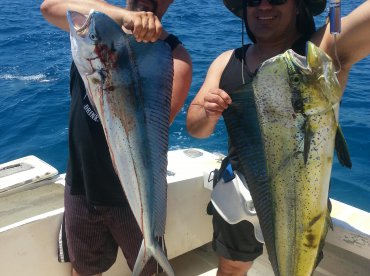 Rating summary
4.53

out of 5 stars

from

5

reviews
Angler rating
| | | |
| --- | --- | --- |
| 5 star | | 4 |
| 4 star | | 0 |
| 3 star | | 1 |
| 2 star | | 0 |
| 1 star | | 0 |
---
VERIFIED

Went fishing on Sunday, January 8, 2017

---

Beautiful trip. Fishing was slow but overall great experience.

Robert Rice recommends Mosquito Fleet - Marcela 28'

Fished January 2017
Replied to this review on Monday, January 9, 2017

---
VERIFIED

Went fishing on Tuesday, April 12, 2016

---

We had family on board ages from 6 to 82 and everyone loves to fish. The captain took us straight to the fish. We all caught multiple fish of all kinds and had a blast. They were all friendly, met all of our 'special requests' and most importantly, got us fishing. A wonderful time was had by all and I would definitely recommend using this company. Thank you!!

Victoria S. Dobson recommends Mosquito Fleet - Marcela 28'

Fished April 2016
VERIFIED

Went fishing on Sunday, March 20, 2016

---

Mesquito Fleet was EXCEPTIONAL!
Blas our captain did a great job changing our spots and methods to put us on the fish.
We caught a 38 lb Yellow Tail… A true fighter.
We also caught a Mexican Tuna, Sea Bass, Rooster fish, + 1 more more I don't know the name of.

We highly recommend the experience1

One last thing…. Blas and the other Mesquito Team spoke english which really made it easy…
Thanks,
Scott Skaletski
Wisconsin, USA

Scott Skaletski recommends Mosquito Fleet - 26' Super Panga

Fished March 2016
Replied to this review on Friday, March 25, 2016

---

Thanks Scott glad you had a great time.

---

We were scheduled to go fishing two days. The first day's fishing experience did not rate high. There was no bait fish at all we had to fish with lures. this crew seemed unprepared. Trolling with lures was not satisfactory. We caught one immature bonita.. The next day, we had bate fish which we paid for. We caught a dorado and brought him to the boat. The crew should have been prepared to net or gaff the fish.Th crew changed from trolling to to catch sed snappers. we caught one large snapper an one medium to small one. The crew the second day seemed more experienced. I think the primary was scuba diving and not fishing. This trip barely reached average. I would not recommend this company.

Jerald Valentine does not recommend Mosquito Fleet - Marcela 28'

Fished November 2015
Replied to this review on Sunday, November 15, 2015

---

Jerald,
We ar sorry that your trip did not meet your expectations but unfortunately you had two days when the first northerly winds of the season hit and this made fishing tough and catching bait on one day impossible.
The crew are very experienced fishing over 300 days a year but when conditions are not favourable this can make for a hard day.
Please come by on another occasion so we can demonstrate the beauty of fishing in La Paz.
Thank you.
---

I have fished La Paz five times before and its always a great time! The captain and Blaz were the best, I've fished with Blaz in the past and he loves to fish. After a long day of fishing the girls at the Cortez club cooked up our catch and it was incredible! My buddies were all first timers and are hooked for life now. Thanks again we'll see you next year

Jason Lyons recommends Mosquito Fleet - Marcela 28'

Fished August 2014