REDFISH BITE IS RED HOT!
Trip Info
Snook
Snapper (Mangrove)
Redfish
Grouper (Gag)
Spanish Mackerel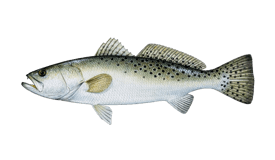 Spotted Seatrout
Flounder
Hurricane Irma did not effect the bite out there for us. On this 6-hour charter we caught fish until the family could not lift there arms any more.
The morning starts off for myself as i launch the boat at 4am in search of bait. After filling both 40 gallon live wells with thousands of bait fish i return to the dock.
Meeting the family of 4 at the dock at 8am, we ran through some introductions then were off.
The first stop of the day was a shallow Rockpile in search of some tasty mangrove snapper and grouper. The first bat full of chum over the rocks was a great sign. Every bait we through over was immediately eaten by a predator fish.
The first fish of the day was caught by young Ian, and it was the one fish he wanted to catch more than anything. A shark! A 4 foot Black tip to be precise. Soon after all the rods and the boat were going off. A list of species we caught on that single spot included: Mangrove snapper, Gag Grouper, Red grouper, Speckled Trout, Spanish Mackerel, Black Sea Bass, Flounder and sharks. And this was all before 10am!
As i looked at my watch i knew the tide was high enough for our next spot. This fishing spot is located up in the Back country where you will not see any other boats, people, or signs of civilization.
We pulled into this shallow spot and could see fish darting all around the spot before we even put down the power pole. This was going to be great! From that moment we caught Redfish every single cast!!! We fished in this area for 1.5 hours and in that short time we must have caught 50 Redfish!
After the Redfish no one could lift their arms to bear catching another fish. So we started the next task of the day. Teaching 12 year old CJ how to catch bait like a pro. We headed out to my bait spot where Cj learned how to chum for bait as well as of the other types of bait available in our area. He did a great job catching bait. (Maybe i should hire him to be my first mate)
We finished the day out by watching the dolphins play in the wake of the boat for a little bit, and then a few opportunities at a nice Snook. Unfortunately the Snook wouldn't cooperate, all of them breaking off or spitting the hook before they could come up for a nice picture.
Tight Lines- Captain Michael Dawson
Patriotic Guide Service
Book your trip with Patriotic Guide Service
About The Captain
Michael Dawson
Holiday FL, United States • Member since September 2017
Growing up in Tarpon Springs area, I grew up fishing the waters of the Tampa Bay area. The first fish I ever caught was a 32" Speckled Trout. Ever since then I have been hooked. My fishing career took off in high school when I started a fishing club at Tarpon Springs High School. I then went to USF Where I was the president of the USF fishing club and team. I have done work with TheOnlineFisherman and am the official guide of The Patriotic Angler Podcast.
Response time: within an hour
Response rate: 100%
---