Nautical Sea's / Salty Crew
Nautical Sea's / Salty Crew
Trip Info
King Mackerel (Kingfish)
Spanish Mackerel
Snapper (Red)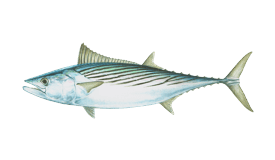 Bonito
Triggerfish (Gray)
The winds and seas were up a bit this day for Jeffry Davis and his crew for their fishing trip on the Jus Cuz. We made the pass around 2:00 pm, it was a little rough but not treacherous. After a short ride out to clean water, Greg put out the trollers and almost immediately caught our first fish! A nice Spanish mackerel. At that the point it was game on.
We trolled towards the Red Snapper fishing grounds and picked up several King Mackerel and even a Bonita I believe. It was getting increasingly rough so Jus Cuz was ready to get some lines in the water for some reef fishing.
It didn't take long and the whole crew were bent over the rail holding on to bent poles with feisty Red Snapper on the other end!
After a limit was reached, we pulled up and started the journey home When the seas are nautical, remember, the captain is experienced, and has already planned your trip when you get on the boat. He isn't going to put his vessel at risk. It's his livelihood. He or she, is going to return back to the dock safe. So, if it's a "Little Nautical" as we say, and the captain says it's fishable, it probably is. He likes to see people catch fish and enjoy the beautiful rewards of being on the water.
Thanks again Jeffry and Carla for fishing with the Jus Cuz!
Book your trip with Jus Cuz Fishing Charters
About The Captain
Albert L Stinson
Orange Beach AL, United States • Member since December 2014
I was born and raised on the Northern Gulf of Mexico, in Mobile, Ala. My father was one of the first charter captains in this area, out of a barrier island called Dauphin, Island. I went on to begin charter fishing full time out of Orange Beach, Alabama, where I currently own and operate the Jus Cuz.
Response time: within an hour
Response rate: 96%
---