Dads and lads lads trip
Trip Info
Yellowtail Amberjack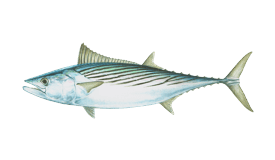 Bonito
What an awesome time was had by our father and son guests this morning. They caught their full quota of yellow tail and Atlantic Bonito off Depth Charge, with Captain Kevin.
The fishing is red hot at the moment
Book your trip with Outrageous Fishing - Depth Charge
About The Captain
Outrageous Fishing
Cape Town WC, South Africa • Member since May 2014
Outrageous Fishing is owned and operated by Skipper Byron Ashington. Byron skippers the Reel-a-Lure. His other charters are skippered by long-time captains and friends. The "Depth Charge" is helmed by Kevin Miles while trips on the Agulhas are run by Waaiz Peterson. All three men are experienced and dedicated to providing a quality service. Byron has been fishing his entire life and has over 30 years of experience on the water, particularly when it comes to deep sea charters. Byron has been a skipper since 1987 and fishing off Cape Town since 1984, with a number of South African and All Africa records to his name, as well as a World Record. He started his own charter company in 1999. Byron says, "I was born into an angling family, and have been angling for over 30 years in the recreational, commercial, and charter sides of angling... Having reached my goals in competitive angling, I now get a thrill out of helping experienced and inexperienced anglers to catch their dream fish..."
Response time: 2 hours
Response rate: 96%
---