Fort Lauderdale Fishing
Trip Info
King Mackerel (Kingfish)
Tuna (Blackfin)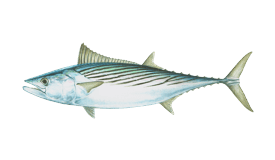 Bonito
Today on the YB Normal out of Fort Lauderdale Florida we had a great crew from Canada, William, Frank, and there wives had chartered the YB normal for a morning deep sea fishing charter, we left the dock at 8am sharp in search of some great gamefish, we started out fishing 2 planners down with seawitches and bonito strips as well as some surface lures, we started at the whistle boy which is only 1 mile from the fort lauderdale coast and over 120 feet of water, we trolled aroung the reef looking for any and all gamefish we started out a little slow due to the full moon we had but i knew the fishing would pick up later as the trip progressed we had gotten a few bites, we landed a few bonito as well as a few king mackerel which are the largest in the mackerel family, we then decided to head off shore in hopes of some different types of fish we had a nice bite on the planner rod but we did not hook the fish i then headed out to around 800 feet of water in search of some bottom fish we were going to do what is called deep dropping where we use a mulitple hook rig called a chicken rig and a heavy sinker in order to send a bait very deep on the bottom in search of some great eating fish, for this type of fishing we use and electric reel due to the current and depth of water we are fishing, we baited up our rig with some fresh bonito and sent it down to the bottom as soon as we hit bottom we were getting bites we left the baits down on the bottom for around 5 min or so and began to bring them up, when the chicken rig surfaced every hook had a fish connected to it 5 hooks 5 fish, the fish we had caught were called black belly rosefish they are orange in color and have big eyes and big mouths and are some of the best eating fish in my opinion that there is in the ocean we made a few more drops with great success and then it was time to head back, willliam and frank had a great time with there wifes soaking up the great florida sun and catching fish, and also getting ready for the great dinner they had in store for them, once back at the dock we took pictures and filted the fish another great day on the water in fort laudedale with YB Normal Sportfishing!
Looking for a sportfishing charter in Fort Lauderdale check out the YB Normal?
Capt Vinnie
Book your trip with YB Normal
About The Captain
Vinnie Sacks
Fort Lauderdale FL, United States • Member since October 2017
Captain Vinnie operates the YB Normal out of Fort Lauderdale, FL, and has worked aboard other boats in the area all his life. He loves being out on the water and getting groups on awesome fish. His favorite fish to catch is Black Grouper, but a huge part of what makes fishing so fun for him is never knowing what is going to bite next. This is what makes bottom fishing so fun for him - you can never tell what will take your bait!
Response time: within an hour
Response rate: 100%
---