Deep Sea fishing charters Ft. Lauderdale
Deep Sea fishing charters Ft. Lauderdale
Trip Info
Dolphin (Mahi Mahi)
King Mackerel (Kingfish)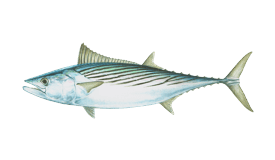 Bonito
And so here comes yet another so/so report regarding our Deep Sea fishing charters here in Ft. Lauderdale. A good day of offshore fishing followed by a tough day that we have been mentioning in previous reports continues to be the case here. There have been days when fishing for Kings on the reef has been stone dead. Stone dead. And then we have caught or limit of Kings on two charters since our last report. A couple of Wahoo have joined us and we see Mahi-Mahi most every day of reasonable size but only a few. A few really nice throwback Groupers as the season remains closed for them. Chance for a nice Blackfin Tuna to bite you just off the edge. Sails around but very few. Good news is that our Golden Tilefish deep water spots continue to produce fish in a short time when we visit them. Big fatty for Mike and his crew in the picture(s) with this report, so every day isn't the "a bad day of fishing beats a good day at the office" line as there have been some good ones hitting the ice. That said we all do hope for more stable fishing this week.
With a shortage of Sails we have we have backed off the live Ballyhoo and kite fishing presentations a bit and are spending more time with live "Bullett" Bonito as a primary bait. The Sails of course eat them but this also opens up a better chance for the larger Kings and Wahoo. A spread of a couple of Bonito and a couple of Ballyhoo has been a good mix as a regular sized Mahi will have a hard time choking down a live Bonito and a live Ballyhoo is usually no problem for one to swallow. Typically trolling will catch more Kings, but the Bonito get the bites from some larger ones. There are some good Kings available doing this and we have also used the Bonito to catch Amberjacks on a couple of shallow wrecks that are holding good numbers of these smalller Jacks of up to 20 pounds. Good fun on light tackle. Also caught a Crevalle that was all of 35# doing this. There are sharks and we had a 9 to 10 foot Great Hammerhead take a 30+ pound King away from us practically at boatside after we had fought it for over 15 minutes. As always an amazing site when something like that happens, especially on a calm day with clear water, but of course not the ending we had in mind.
Once again a couple of sporty days with the passing of the latest front. Very little current but good water clarity on the reefs with the blue typically just outside the edge. The wind has backed off and it's a beautiful day to start the week. We'll see you offshore.
Capt. Rick
Book your trip with Marlin My Darlin Sportfishing
About The Captain
Rick Brady
Fort Lauderdale FL, United States • Member since July 2014
My crewman and I have extensive experience in fishing the Fort Lauderdale/Miami areas: two Bahamas Billfish Championships and numerous tournament wins in addition to our many years of local chartering. None of us enter into tournament fishing anymore and instead choose to spend our days furthering experienced and novice anglers experiences at deep sea fishing and smoothly introducing new anglers to deep sea fishing. Between us, we have a combined total of over 90 years guiding anglers in their pursuit of big game fish and also "action" charters tailored to meet each charters specific wishes. We love what we do, it is all we do, and our love for our job is easily seen with Trip Advisor and Google reviews as well as here at Fishing Booker, as all carry us with a 5-star rating.
Response time: within an hour
Response rate: 99%
---