Fort Lauderdale deep sea fishing
Fort Lauderdale deep sea fishing
Trip Info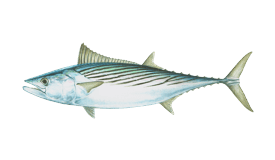 Bonito
Dolphin (Mahi Mahi)
Wahoo
Near shore Fort Lauderdale deep sea fishing remains productive. There have been Wahoo, Sailfish and moderate to larger sized Sharks within two miles of the beach. The weather is of course warm and the breeze has become very slight. So it has been a bit sticky like most everywhere else but the ocean has basically been flat calm for days now with beautiful sunny skies. Here's to a few showers and some clouds to even overcast skies to slow that Forida summer sun down a bit. We're just never completely happy are we.
As expected the Wahoo bit with the moon and again the best areas for them were around structure and just outside of the reef line. Anchored ships waiting off the Port provide us with chances at these fish as well. They provide shade and are an attractant for various types of baitfish which are to the Wahoo's and other predator's liking. Early morning or later in the day is best.
We continue to see the August Sailfish and again just off the reef line with some inside of that as well. They continue to be colorblind in regards to water clarity when the current is present, many of them preferring to hunt for food and hang out in the green water as opposed to the blue colored water just deeper.
The current has lessened and we are seeing some grouper and good sized jacks. There are Kingfish, Blackfins and the Bonitos and many are way inside despite the warmer summer reef water.
Occasional Mahi-Mahi but still ridiculously slow for them. When debris is located out in the deeper blue water and searching for those difficult Mahi there occasionally are the smaller Wahoo beneath that debris, but most are smaller than the larger ones we are seeing near shore along the reefs.
Book your trip with Marlin My Darlin Sportfishing
About The Captain
Rick Brady
Fort Lauderdale FL, United States • Member since July 2014
I and my crewmen have extensive experience in fishing the Fort Lauderdale/Miami areas: two Bahamas Billfish Championships and numerous tournament wins in addition to our many years of local chartering. None of us enter into tournament fishing anymore and instead choose to spend our days furthering experienced and novice anglers experiences at deep sea fishing and smoothly introducing new anglers to deep sea fishing. Between us, we have a combined total of over 90 years guiding anglers in their pursuit of big game fish and also "action" charters tailored to meet each charters specific wishes. We love what we do, it is all we do, and our love for our job is easily seen with Trip Advisor and Google reviews as well as here at Fishing Booker, as all carry us with a 5-star rating.
Response time: 1 hour
Response rate: 99%
---

Weather Protection
Canceled due to bad weather? We'll help reschedule or refund.
Best Price Guarantee
Found the same trip for less? We'll refund the difference!
Service You Can Trust
7 day customer support for a hassle-free fishing experience.
Trusted Payments
Book via our secure platform and enjoy flexible payment options.